Cinnamon rolls are a beloved treat that have been enjoyed for generations. But, what if we took this classic pastry and turned it into something even more festive and eye-catching? That's exactly what you'll find in this recipe for a Cranberry Orange Cinnamon Roll Wreath. With a filling of cranberry, orange, and cinnamon, and topped with sugared cranberries or candied oranges, this beautiful wreath is not only delicious but also perfect for holiday gatherings and special occasions.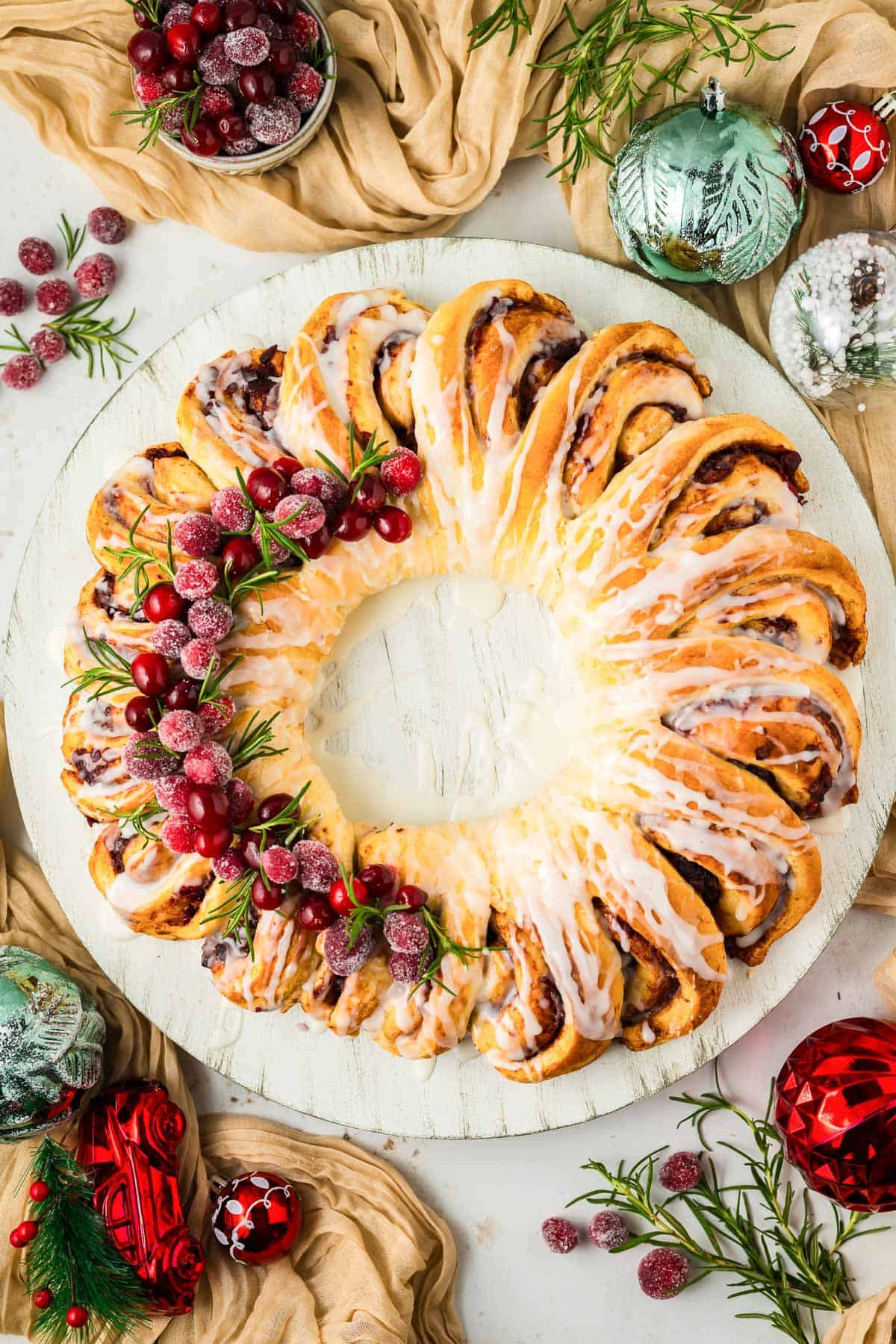 This post contains affiliate links. See our Disclosure Statement for more information.
Need a beautiful centerpiece that will impress your guests this holiday season? Look no further, this Cranberry Orange Cinnamon Roll Wreath is the most delicious answer!
It's made with homemade cinnamon rolls, orange, cranberry, and vanilla icing for the most delicious seasonal flavor.
These rolls will be sure to dazzle and are really quite easy and so fun to decorate with easy-to-make sugared cranberries and candied oranges making it even more stunning.
Why This Recipe Works
Fluffy, homemade cinnamon rolls are the perfect base for this recipe. While it does take some some time to prepare, each step is very straight-forward and fairly easy.
This wreath is a beautiful centerpiece for a holiday brunch, dinner, or dessert table.
It's absolutely delicious with the perfect combination of sweet orange and tart cranberry with warm spices.
Step-By-Step Instructions
Ingredients
Dough
1 cup whole milk
1/2 cup granulated sugar
2 packets instant yeast
6 tablespoons unsalted butter (room temperature)
3 large eggs (room temperature, lightly beaten)
4 1/2 cups all purpose flour: we highly recommend using high-quality baking products like King Arthur brand for the best results.
1/2 teaspoon salt
1/4 teaspoon baking soda
Filling
3/4 cup brown sugar (packed)
2 tablespoons cinnamon
1/2 teaspoon nutmeg
1 cup cranberries: you can use fresh or frozen
2 tablespoons orange zest
½ cup butter (softened, plus extra to brush over the rolls)
Icing
1 cup powdered sugar
1/2 teaspoon vanilla extract
2 tablespoons whole milk
Sugared Cranberries
1/2 cup water
3/4 cup granulated sugar (plus extra for rolling)
1 cup cranberries
Candied Oranges
4 cups water
2 cups granulated sugar
4 oranges (smaller is better, washed and dried)
The entire recipe and instructions can also be found in the recipe card at the bottom of this post. You can also print the recipe from the card, if needed.
Prep!
There is no prep work for this recipe, but you can make the sugared cranberries and candied oranges ahead of time.
Create!
Dough
Heat the milk to 110°F and pour into the bowl of an electric mixer.
Stir in the sugar and yeast and let sit for 5 minutes until it gets bubbly.
Stir in the butter and eggs. Using the kneading attachment of the mixer, gradually add 4 cups of the flour, salt, and baking soda. If the dough is too sticky, add a little more flour until it forms a ball.
Beat until the dough is smooth and elastic, about 10-15 minutes.
Heat your oven to 200°F, then turn off the oven. Cover the dough with a towel or plastic wrap and place in the warm oven. Let it rise until doubled, about an hour or up to 2 hours.
Filling
Combine the brown sugar, cinnamon, nutmeg, cranberries, and orange zest together in a food processor or blender and pulse a few times until the cranberries are chopped into small pieces. Chill until the dough is ready.
Remove the dough and punch down. Roll the dough into a rectangular shape on a lightly floured surface until it's about 12-inches wide by 20-inches long.
Spread the butter for the filling over the dough. Pour the cranberry mixture over the dough and smooth over leaving a small edge of dough with no filling.
Tightly roll the dough up into a 20-inch long log. Carefully place the roll on a large baking sheet and bend into a large circle.
Cut the log into fourths, only cutting 3/4ths of the way through the dough. Then, cut each fourth into 4 even pieces. again only 3/4ths of the way through. Carefully turn each roll sideways to form the wreath.
Brush with some melted butter, then cover and allow the rolls to rise for another 45 to 60 minutes in the warm oven.
Remove the rolls and heat the oven to 350°F.
Bake the rolls for 25 minutes or until the rolls are golden brown.
Cool the rolls before icing and decorating.
Icing
Combine the powdered sugar, vanilla extract, and milk together and drizzle over the rolls.
Sugared Cranberries
Heat the sugar and water until it's simmering and the sugar has dissolved. Turn the heat to low and add the cranberries. Cook for 10 minutes, then turn off the heat and allow to sit for 5 more minutes.
Lift the cranberries out with a slotted spoon so the syrup drains and place on a piece of parchment paper. Dry for 1 hour.
Roll the dried, sticky cranberries in sugar.
Candied Oranges
Slice the oranges as thin as possible. Carefully using a mandolin will give thin, even slices.
Heat 2 cups of water to boiling, then add the orange slices and boil for 2 minutes.
Drain the water and place the oranges in an ice bath to stop the cooking. This will help reduce any bitterness in the peel.
Bring 2 cups of water and sugar to a boil then turn the heat down to medium-low and add the orange slices.
Simmer for 1 to 2 hours until they turn translucent. Add more sugar and water in even amounts as needed. Don't allow the water to get too low or the orange slices can burn and turn bitter.
Gently lift the orange slices from the sugar water and lay on a wire rack to dry overnight or heat the oven to 200°F, then turn off the oven and place the orange slices in the oven for an hour to speed the drying process. Continue drying as necessary.
Sprinkle dried oranges with sugar.
The oranges will still by pliable.
Present!
Decorate with cranberries or candied oranges and greenery such as rosemary, sage leaves, and/or pine boughs.
Full slice through the wreath to serve.
Tips and Techniques
Use fresh yeast for the fluffiest rolls.
Cut the rolls only 3/4ths of the way. The edge of the rolls need to stay joined.
Make the sugared cranberries and candied oranges a few days in advance so they are fully dried. Store in a cool, dry place.
Store leftover cinnamon roll wreath at room temperature. Consume within 5 days.
FAQ's
Can You Freeze Cinnamon Rolls?
Cinnamon rolls may be frozen (without the decorations) for up to 3 months. Thaw at room temperature, then decorate before serving.
Can You Use Pre-made Cinnamon Roll Dough To Make A Cinnamon Roll Wreath?
As a short cut, you can use store-bought, pre-made cinnamon roll dough to make a cinnamon roll wreath, but we feel that making the dough homemade is always best.
More Holiday Recipes
Love this Cranberry Orange Cinnamon Roll Wreath recipe? Follow me on Pinterest, Instagram, and Facebook for more!
If you try this recipe, I would really appreciate it if you would please leave a comment and star rating. Thanks!