Your favorite Caprese salad in sandwich form! Fresh tomatoes, mozzarella, basil and chicken make up this hearty, flavorful Chicken Caprese Panini. It's perfect for a quick lunch or dinner.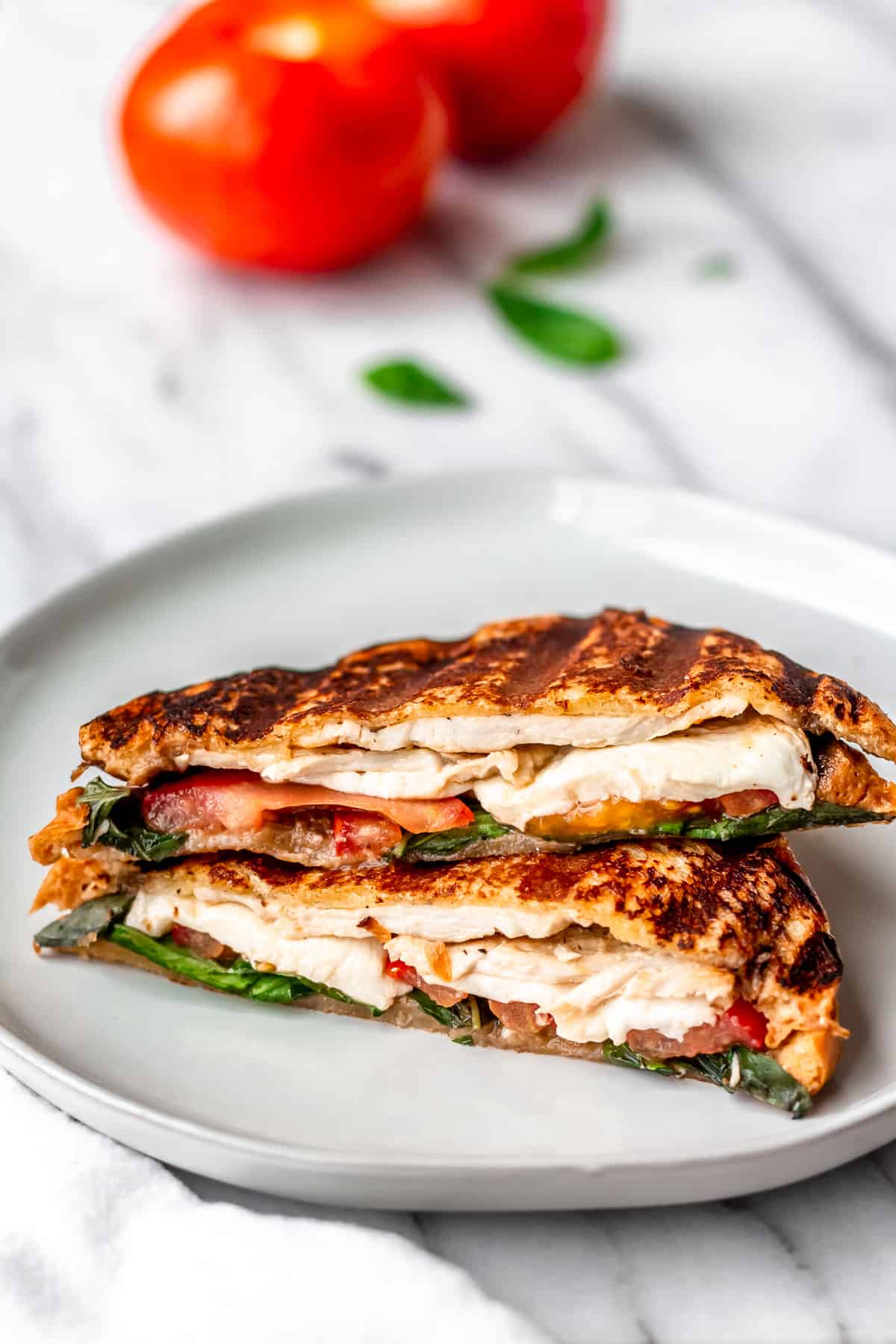 This post contains affiliate links. See our Disclosure Statement for more information.
Caprese salads are super popular, and one of my favorite Italian dishes. They are so simple, so fresh and have incredible flavor. Truly the epitome of how food should be.
I've taken everything there is to love about Caprese salads and turned it into a filling panini, or grilled sandwich, by adding brioche bread and chicken. It's even better if you have homegrown tomatoes and/or basil from the garden.
If you love the flavors of Caprese, you will likely also enjoy this Caprese Pizza recipe.
Why This Recipe Works
This is a quick and easy recipe to prepare, especially if using leftover chicken.
It's super flavorful. All of the best Caprese flavors combined with chicken for added protein.
Gluten free bread can be used, if needed. You can also eliminate the chicken, if you prefer to make a vegetarian Caprese sandwich instead.
Step-By-Step Instructions
Ingredients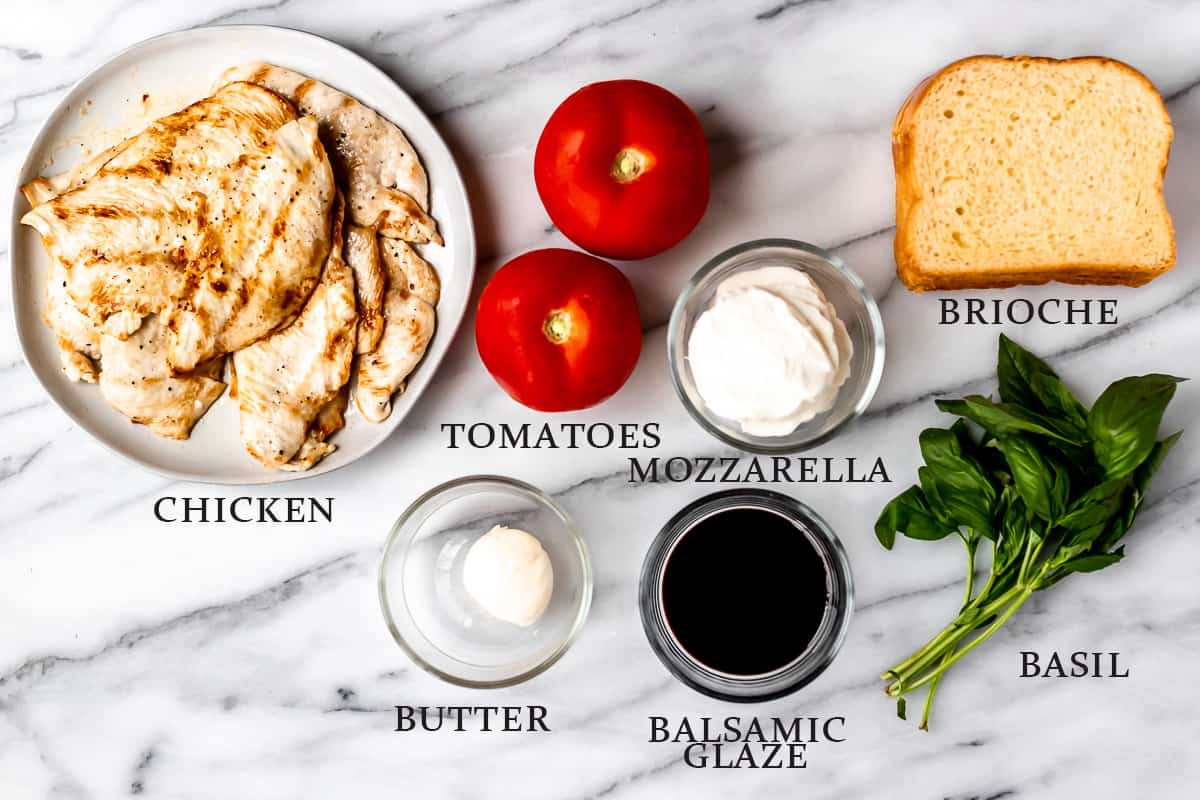 1 tablespoon butter (spreadable): you can use olive oil instead, but I find the bread tends to soak it up easier which can make it get soggy fast.
8 slices brioche bread: sourdough or ciabatta also work great for paninis. You can use gluten free bread, if needed.
1 pound of boneless chicken (cooked): thin cut or chicken breasts that have been pounded thin work great. You can use leftover chicken or cook it right before using it. If you are using leftover chicken out of the refrigerator, you may want to warm it up a little before assembling your panini.
4 ounces fresh mozzarella (sliced thin): you may be able to find fresh mozzarella already sliced thin in the specialty cheese department of your local grocery store.
2 tomatoes (sliced 1/4-inch thick)
1 tablespoon balsamic glaze
1/2 cup fresh basil leaves
The entire recipe and instructions can also be found in the recipe card at the bottom of this post. You can also print the recipe from the card, if needed.
Prep!
If you are not using leftover or pre-cooked chicken, you will need to cook the chicken first.
Slice the tomatoes and mozzarella cheese.
If you are using an electric panini press, preheat it now to your desired setting. You can also use a panini pan with a press or a regular large skillet instead. If you need to use a regular skillet, you can press your sandwich down with a spatula or smaller skillet, if needed.
Create!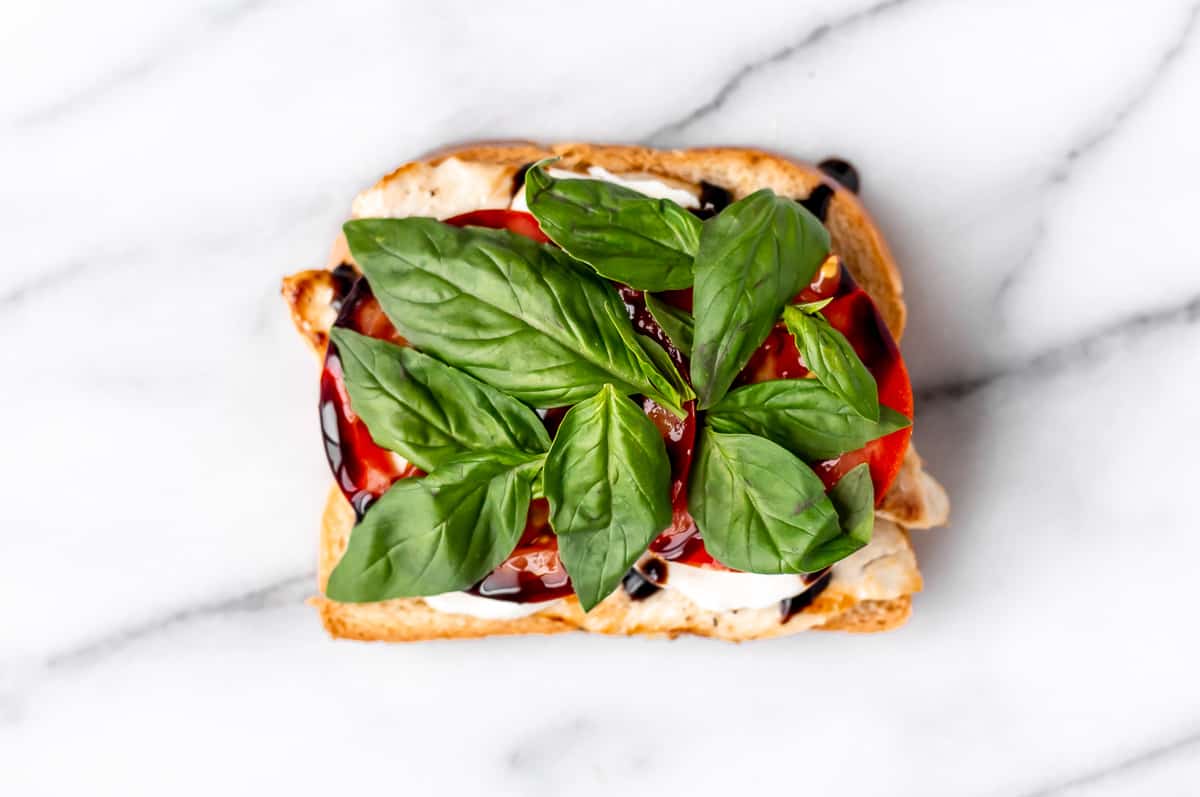 Lightly butter one side of each slice of bread.
With the butter side down, top four pieces of bread with chicken, mozzarella cheese, tomato slices, balsamic glaze, and basil. Top with the remaining slices of bread, buttered side up.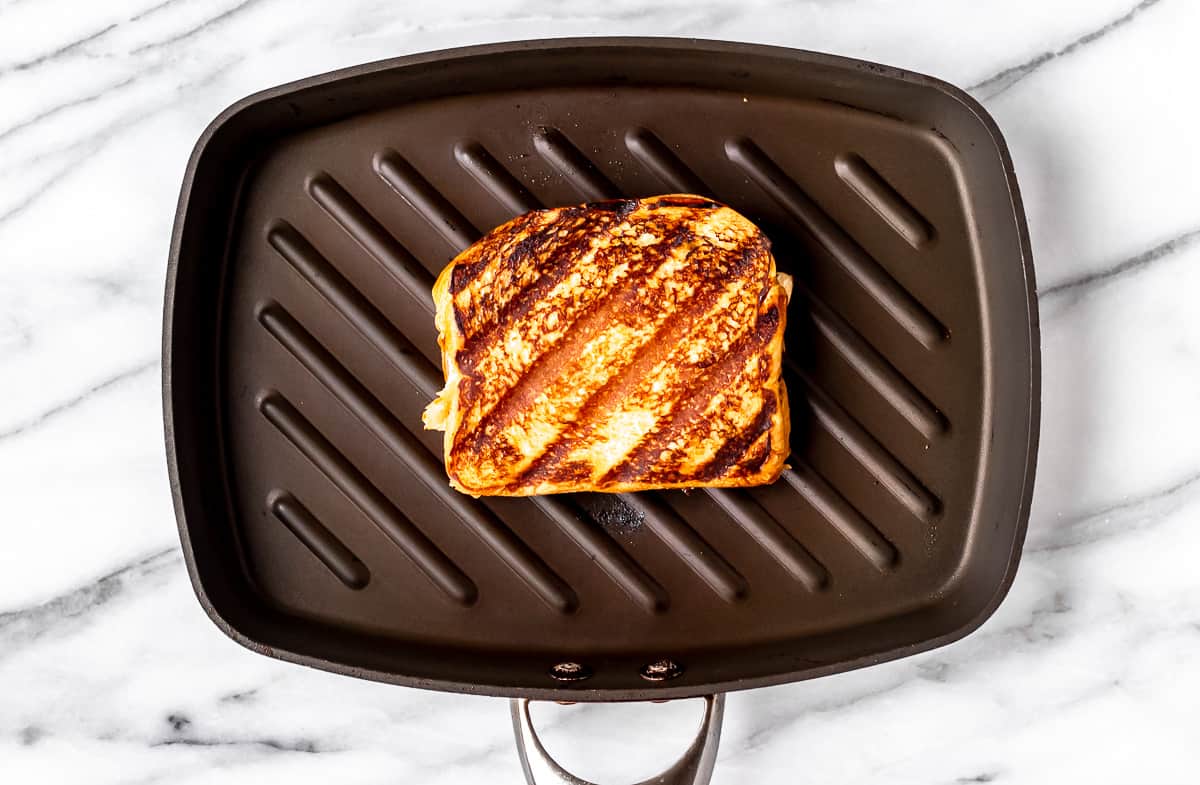 If using a panini pan or skillet, heat it over medium-high.
Once hot, place the paninis in the pan (or panini press) and apply the press. Grill for 1-2 minutes, watching closely, or until golden brown. Flip and repeat on the other side. You do not need to flip the panini if using an electric panini press.
Present!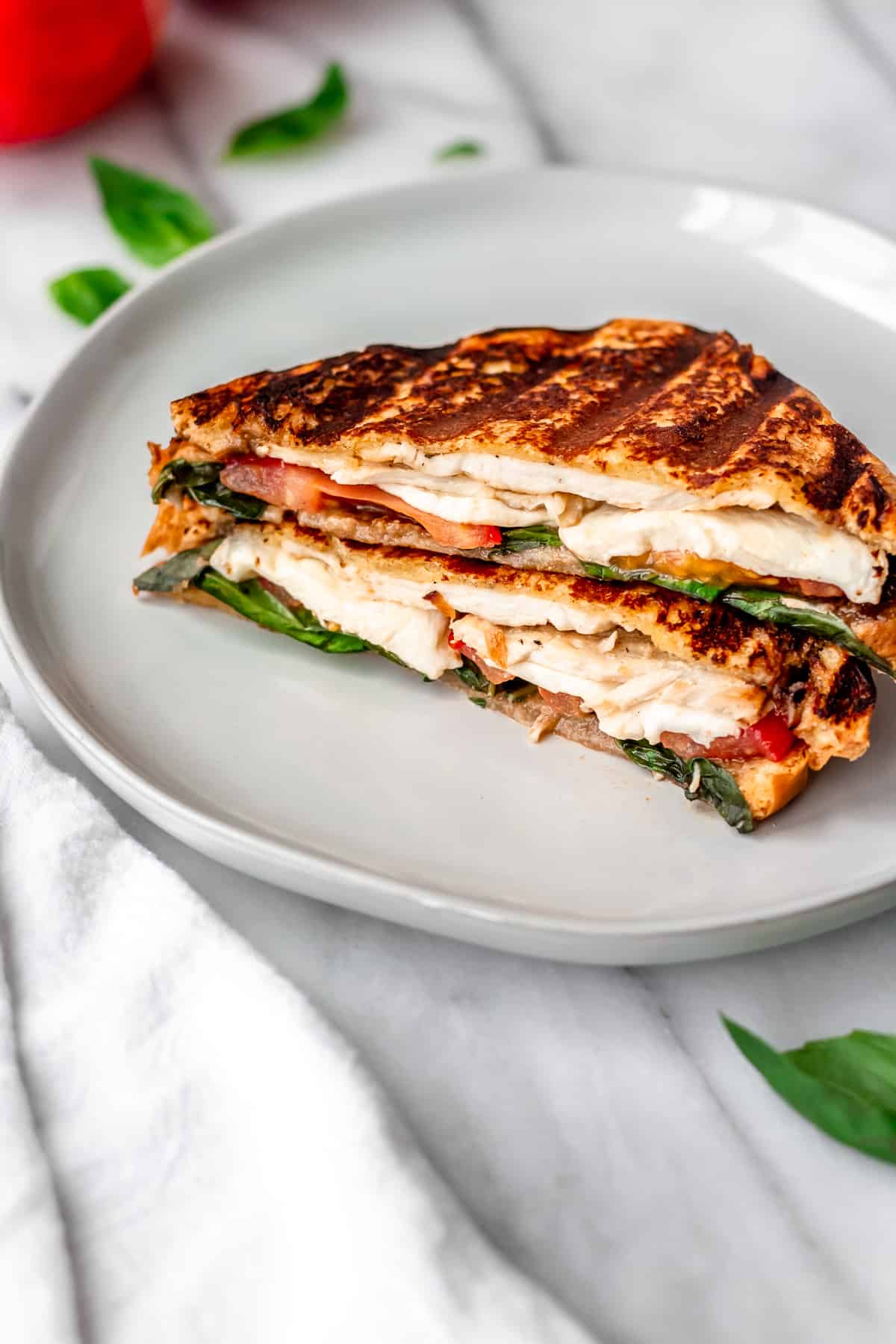 Cut paninis in half, as desired, and serve warm.
Tips and Techniques
Sourdough or ciabatta bread can be used in place of Brioche, if preferred.
Add about 15 minutes to the prep time if you need to cook the chicken first.
Store leftovers, unassembled, in airtight containers in the refrigerator.
FAQ's
What Is Caprese?
Caprese is a salad made up of sliced mozzarella, tomatoes and basil. It is often drizzled with olive oil and/or a balsamic reduction or glaze.
How Do You Pronounce Caprese?
Ca-Pray-Zee is how to pronounce Caprese.
What Do You Serve With A Chicken Caprese Sandwich?
A Caprese sandwich is basically all of the components of the salad on bread. Soup or other sides, like chips or french fries, pair great with it.
More Sandwich Recipes
Love this Chicken Caprese Panini recipe? Follow me on Pinterest, Instagram, and Facebook for more!
If you try this recipe, I would really appreciate it if you would please leave a comment and star rating. Thanks!