Creamy Buffalo Chicken Spaghetti Squash Casserole is cheesy, spicy, and incredibly delicious! Made with only 5 ingredients, it's low in carbs and suitable for those following a keto, low carb, or gluten free diet.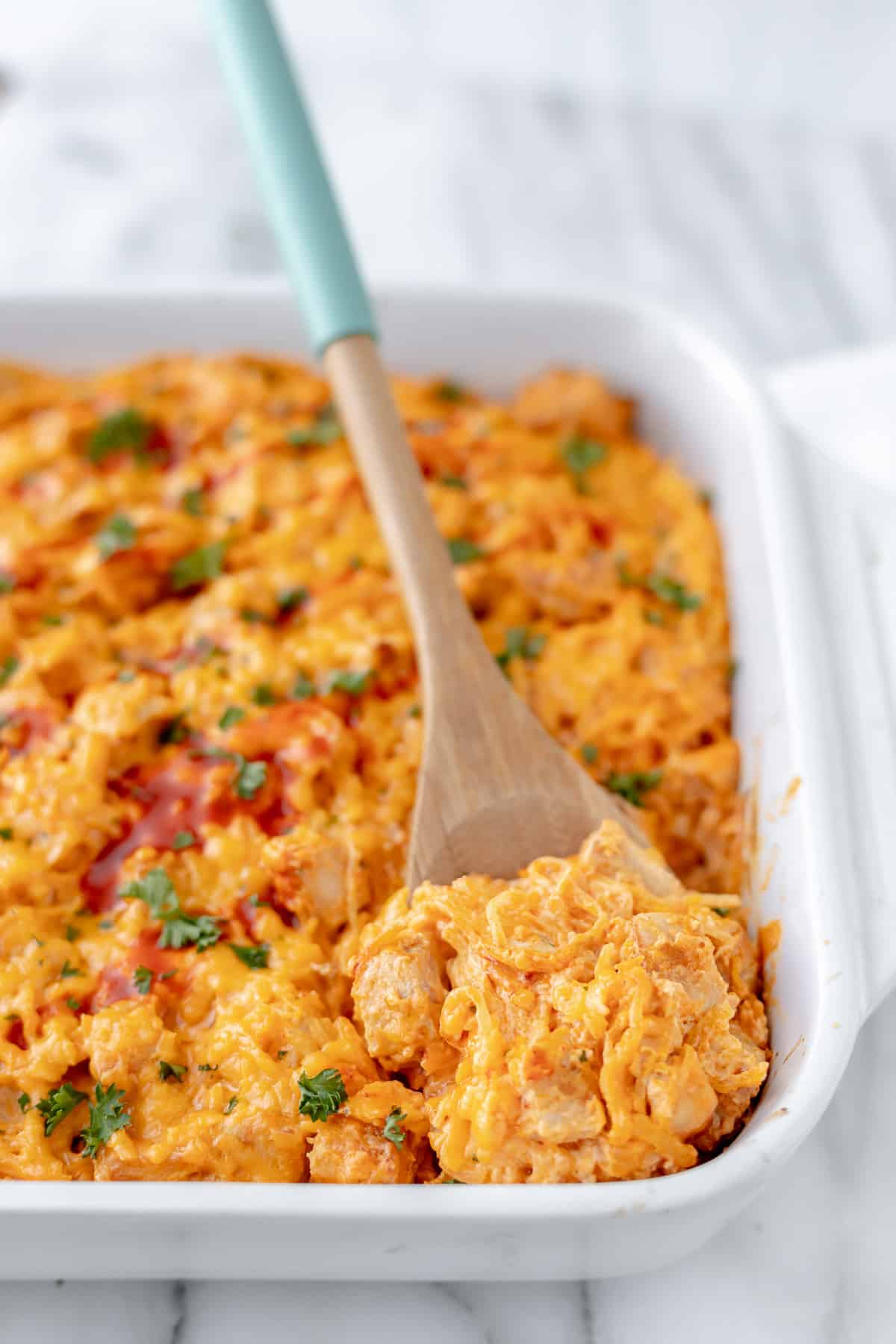 This post contains affiliate links. See our Disclosure Statement for more information.
Buffalo chicken recipes have been incredibly popular the last several years. What started out as a delicious party dip has evolved into many different main dish options.
My recipe for Creamy Buffalo Chicken Cauliflower Casserole is one of the most popular recipes on this website. I don't know why it took me so long to try it with spaghetti squash, but here we are, finally!
This Creamy Buffalo Chicken Spaghetti Squash Casserole has all of the same cheesy, spicy flavor, but with a much milder base. The flavor of the spaghetti squash is not as strong as cauliflower so it's a better option for those who don't care for cauliflower or simply enjoy spaghetti squash.
Why This Recipe Works
5 ingredients is all it takes to make this super flavorful casserole dish! Of course you can always add celery, onion or bell peppers to the mix, if you like.
Cream cheese is blended with a sharp cheddar cheese for a smooth, creamy base.
Classic Buffalo sauce brings plenty flavor and spiciness.
Spaghetti squash is not only a healthy base for this recipe, but, with only 6 net carbohydrates per serving, it is much lower in carbohydrates than traditional pasta. Chunks of chicken add plenty of protein making this casserole suitable for those on low carb or keto diets.
This recipe is naturally gluten free.
Step-By-Step Instructions
Ingredients
1 1/2 pounds cooked chicken (diced or shredded)
1 medium spaghetti squash (about 5 cups cooked)
8 ounces cream cheese
1/2 cup buffalo sauce
8 ounce sharp cheddar cheese (shredded)
The entire recipe and instructions can also be found in the recipe card at the bottom of this post. You can also print the recipe from the card, if needed.
Prep!
Dice and cook your chicken, or shred it, if preferred.
Chef's Tip: Leftover or rotisserie chicken works great for this recipe. I also like to use my Instant Pot to cook the chicken which makes it super easy to dice and shred.
Shred the cheddar cheese.
Chef's Tip: It is not recommended to use a bagged shredded cheese as it contains a starch to keep it from sticking together. That starch makes it so that the cheese doesn't melt as nicely and may increase the total carb count.
Preheat your oven to 375°F.
Create!
Cook the spaghetti squash first so that it has time to cool. You can either microwave or roast it. For this recipe, I prefer to microwave it since the buffalo sauce is the dominate flavor and the flavor of the spaghetti squash doesn't come through much at all.
To microwave the spaghetti squash, leave it whole and pierce about 10 holes into it.
Microwave on high for 8-10 minutes or until tender. Allow it to cool before cutting it in half and removing the seeds.
Then, use a fork to scrape out the inside into spaghetti-like strands.
Chef's Tip: for detailed instructions on how to roast spaghetti squash, please see this recipe for Tuscan Spaghetti Squash.
Meanwhile, prepare the sauce by adding the cream cheese to a large, deep skillet over medium heat. Add the buffalo sauce and continue to melt and blend.
Once the cream cheese is mostly melted, turn off the heat and stir in half of the cheddar cheese. It may not be perfectly smooth yet, but will melt more later.
Stir in the hot spaghetti squash and cooked chicken. Mix well. By now the sauce should be smooth and creamy.
Spread into a medium casserole dish.
Top with the remaining cheddar cheese.
Cover loosely with foil and bake for 20-25 minutes.
Remove the foil and bake for an additional 10 minutes or until the cheese is melted and bubbling.
Present!
Top the baked casserole is with extra buffalo sauce or Ranch dressing and fresh, minced parsley, if desired.
Tips and Techniques
Cut the chicken into bite size cubes and cook in a skillet with olive oil until just done through, or use an Instant Pot, or use leftover or rotisserie chicken to save time.
It is best to shred the sharp cheddar cheese from a block rather than buying a bag of pre-shredded cheese which contains a starch and doesn't melt as well.
For detailed instructions on how to roast spaghetti squash, please see this recipe for Tuscan Spaghetti Squash.
Store any leftover casserole in an airtight container in the refrigerator. Consume within 3-4 days.
FAQ's
Can You Store Buffalo Chicken Casserole In The Freezer?
Yes, a buffalo chicken casserole can be stored in the freezer tightly covered and unbaked, for up to 6 months. Thaw in the refrigerator before baking. Increase the cook time to 35 minutes covered, then 10 minutes uncovered.
Can Buffalo Chicken Casserole Be Made Ahead Of Time?
This casserole can be made ahead of time and kept in the refrigerator, tightly covered. It is recommended to bake it within 2 days. Increase the cook time to 35 minutes covered, then 10 minutes uncovered.
More Buffalo Chicken Recipes
Love this Buffalo Chicken Spaghetti Squash Casserole recipe? Follow me on Pinterest, Instagram, and Facebook for more!
If you try this recipe, I would really appreciate it if you would please leave a comment and star rating. Thanks!