Buffalo Chicken Meatballs are an easy to make, spicy, and delicious recipe. They are a lightened up version of Buffalo chicken wings and less messy to eat. This recipe is low carb, keto friendly, and gluten free, but your guests will never know!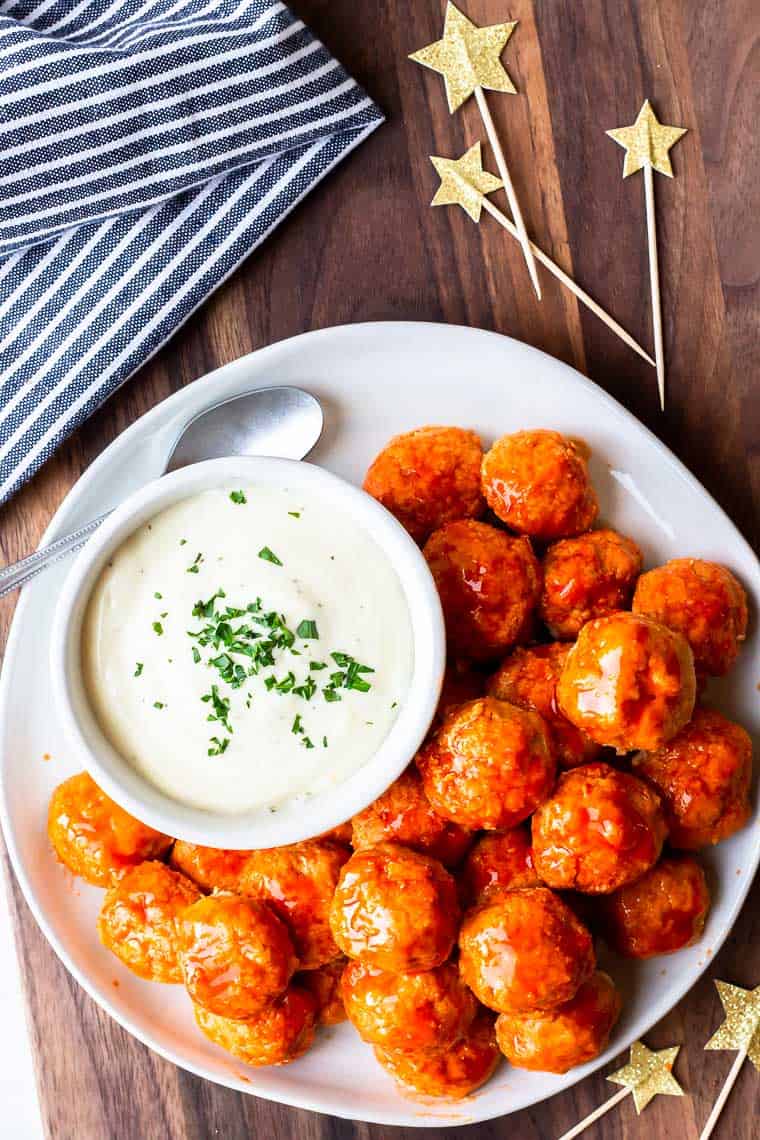 This post contains affiliate links. See our Disclosure Statement for more information.
If you've bounced around Delicious Little Bites a bit, it's likely that you've come across a Buffalo chicken recipe or two. In fact, one of my most popular, if not the most popular recipe on this website, is for Buffalo Chicken Cauliflower Casserole.
I'm pretty much always looking for more ways to enjoy Buffalo chicken, and you can never go wrong with meatballs. My boys go crazy over my Keto Italian Meatballs, so I had a good feeling we'd all enjoy this recipe for Buffalo Chicken Meatballs and I hope that you do too!
Why This Recipe Works
Making chicken meatballs is really quick and easy. This recipe uses only 4 ingredients, and takes right around 30 minutes to make from start to finish.
The meatballs are made with Buffalo wing sauce and tossed with even more sauce after they are done baking for the most spicy Buffalo flavor possible.
You can serve these meatballs as an appetizer or the main meal. They are such a good snack to have on game days or for super bowl parties with Ranch and blue cheese dressings for dipping.
This recipe is made with almond flour to keep it low in carbs, keto friendly, and gluten free.
How to Make Buffalo Chicken Meatballs
What You Need To Make This Recipe
1 pound ground chicken
3/4 cup blanched almond flour
1 cup Buffalo sauce, divided
1 egg
The entire recipe and instructions can also be found in the recipe card at the bottom of this post. You can also print the recipe from the card, if needed.
Prep!
Preheat your oven to 400°F.
Create!
Combine the ground chicken, almond flour, 1/2 cup of the Buffalo sauce, and the egg in a large bowl and combine until just blended. You can gradually add more almond flour if the mixture is too wet.
Chef's Tip: be careful not to over work the mixture, or you may end up with tougher meatballs.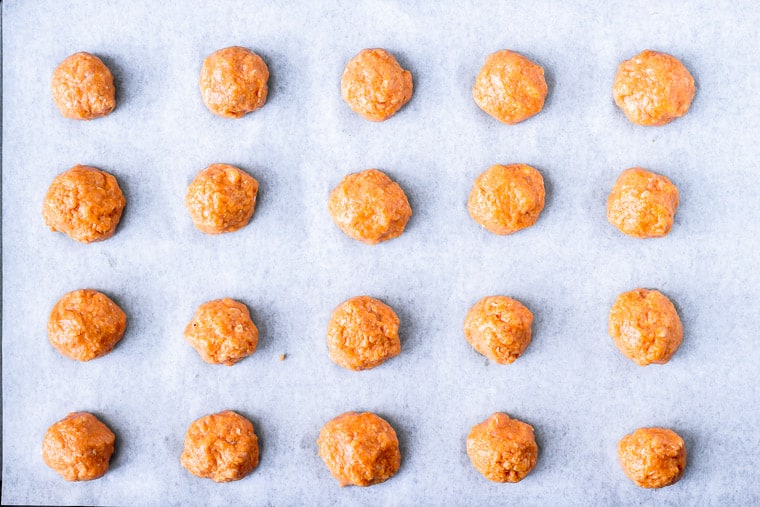 Using your hands, or a small ice cream scoop or melon baller, form 24 1-inch meatballs and place on a baking sheet, lined with aluminum foil or parchment paper for easier clean up.
Bake for 20-25 minutes or until fully cooked through.
Present!
Toss the meatballs with the remaining 1/2 cup of Buffalo sauce.
Serve with Ranch or Blue cheese dressing for dipping, if desired.
Tips and Techniques
If the meatball mixture is to wet, gradually add more almond flour.
Be careful not to over work the mixture, or the meatballs may end up tough.
Store leftovers in an airtight container in the refrigerator. Use within 3-4 days.
FAQ's
What Do You Serve With Chicken Meatballs?
These chicken meatballs can be served over zoodles or cauliflower rice.
They also pair great with coleslaw, celery, and carrot sticks, as well as dipping sauces like Ranch and blue cheese dressings.
More Buffalo Chicken Recipes
Love this Buffalo Chicken Meatballs recipe? Follow me on Pinterest, Instagram, and Facebook for more!
If you try this recipe, I would really appreciate it if you would please leave a comment and star rating. Thanks!