Blended Baked Oats went viral on TikTok for good reason. Not only are they delicious and healthy, but they taste like cake! This recipe includes the much loved combination of peanut butter and chocolate chips, but once you know the base recipe you can customize the oats in an endless amount of different ways.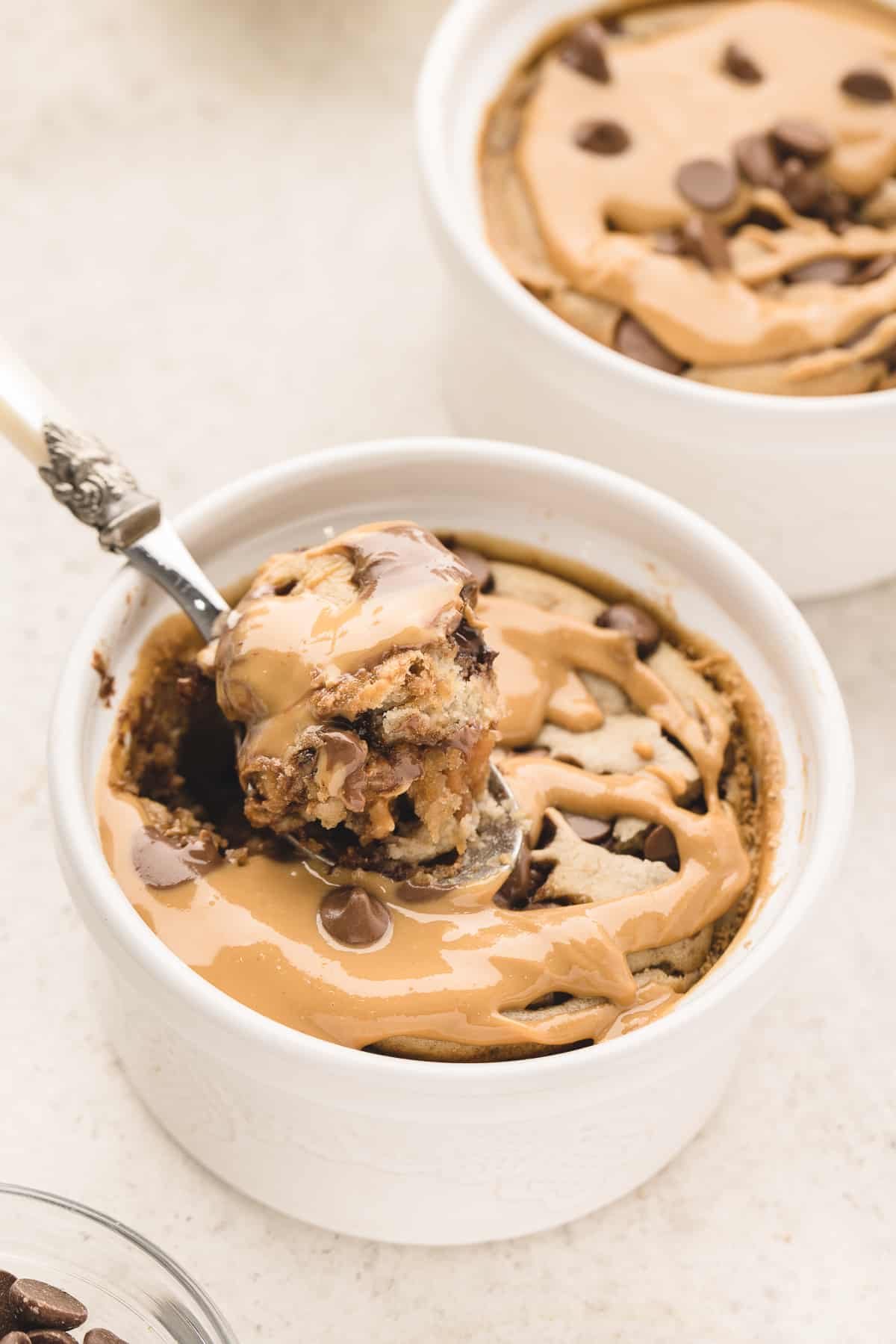 This post contains affiliate links. See our Disclosure Statement for more information.
Making this viral Titkok recipe for blended baked oats could not be any easier.
Whether you prefer sweet tastes for breakfast or something more savory, these baked oats are perfect for busy mornings when you don't have time to cook but you still need something with lots of protein.
This version includes the much-loved combination of peanut butter and chocolate, but you can experiment with all kinds of different mix-ins for a huge variety of breakfast choices.
If you love oatmeal for breakfast but need an easy grab-and-go meal, try these Peanut Butter Banana Overnight Oats. They are creamy, flavorful and filling.
Why This Recipe Works
Breakfast shouldn't be complicated, especially before coffee. This peanut butter chocolate chip breakfast recipe is super easy. All you have to do is blend the ingredients together and bake it!
It's a healthy recipe that doesn't taste like it's good for you. Kids love it because it tastes like you are eating dessert for breakfast.
Plus, it's versatile too! If you want to make blended baked oats without bananas, read this recipe for different substitutes you can use. There are also different mix-ins you can add too, like Nutella, cookie butter, almond butter, nuts, or fresh berries.
Step-By-Step Instructions
Ingredients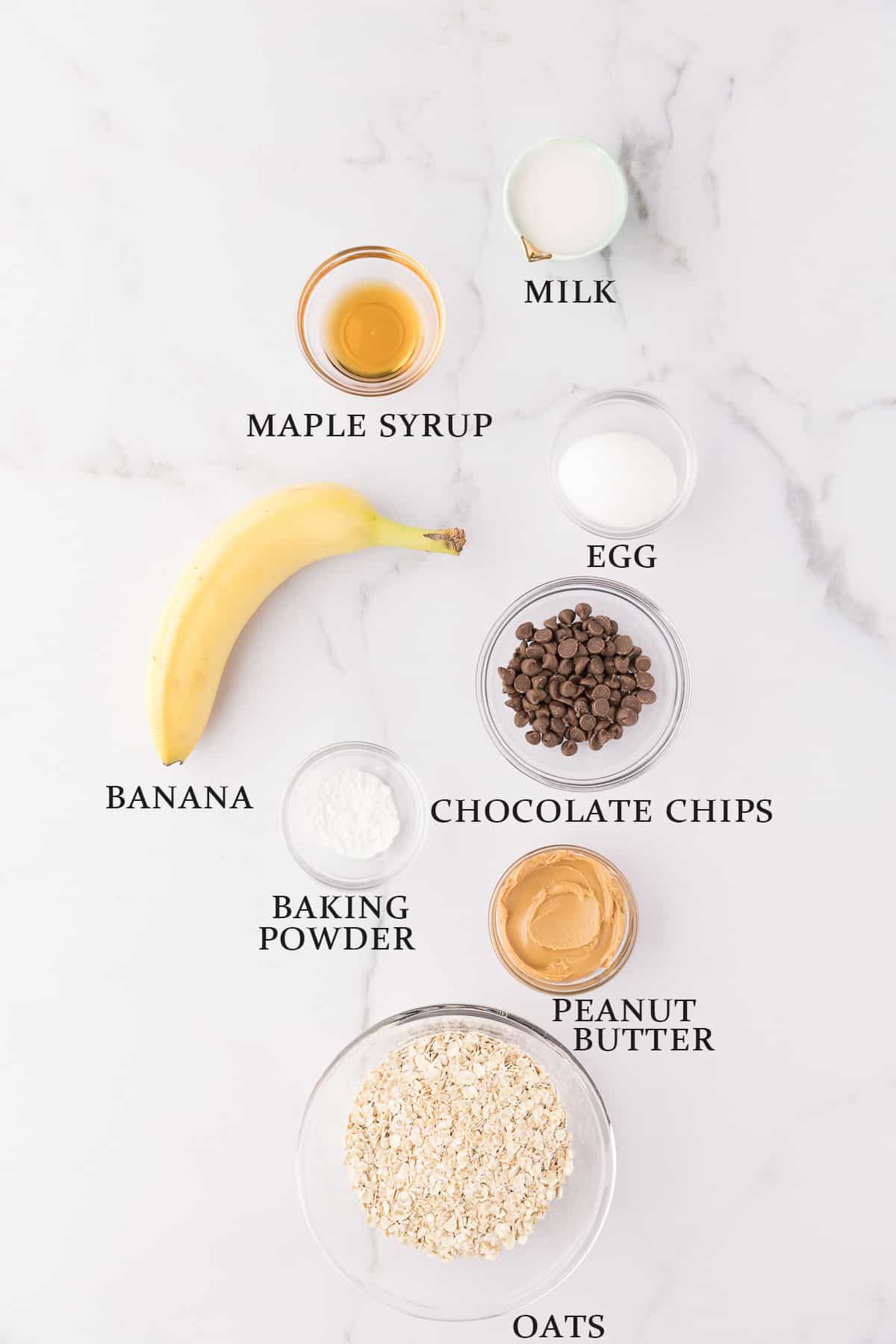 Blended Baked Oats Base Recipe
1 cup oats: you can use either rolled or quick oats
1 banana: you can substitute 1/2 cup of applesauce if you prefer blended baked oats without banana
1 egg: you can omit the egg, however the oats may not rise as much.
1/2 cup almond milk: we use almond milk because that is what the viral recipe on TikTok uses. However, we have tested this with cow's milk and oat milk and the recipe works just as well. Use whichever milk is your preference.
1 tablespoon maple syrup: or honey
1/2 teaspoon baking powder
Add-ins
2 tablespoons creamy peanut butter, plus extra for drizzling
1/4 cup chocolate chips
The entire recipe and instructions can also be found in the recipe card at the bottom of this post. You can also print the recipe from the card, if needed.
Prep!
There is no significant prep work for this recipe except to preheat your oven to 350°F and grease two 8 ounce ramekins with butter or spray cooking oil.
Have your blender out and ready to go.
Chef's Note: we used a Magimix but this recipe will work in any blender, smoothie maker or Nutribullet.
Create!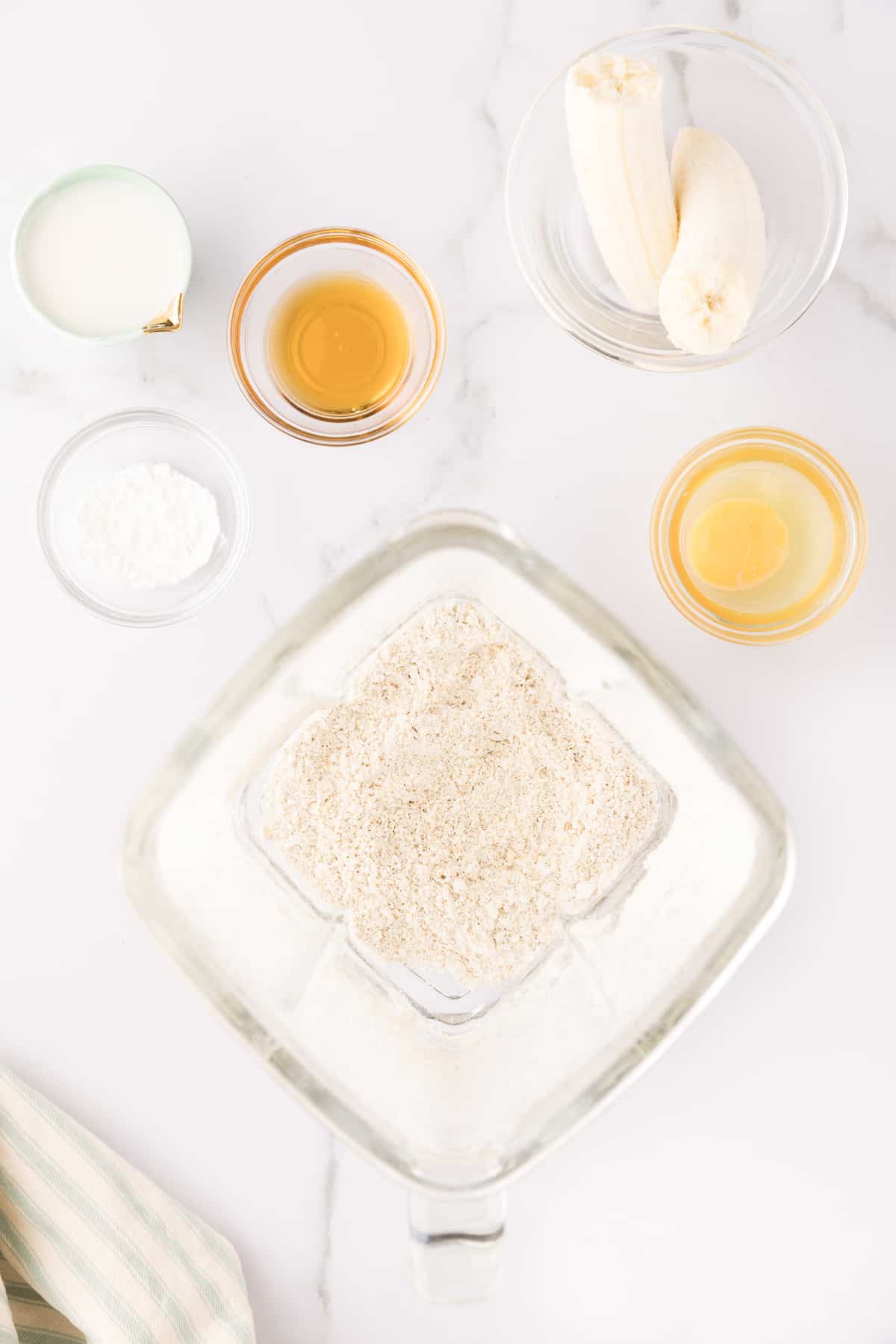 Add the oats to a blender and pulse until the oats are ground very fine and look like flour.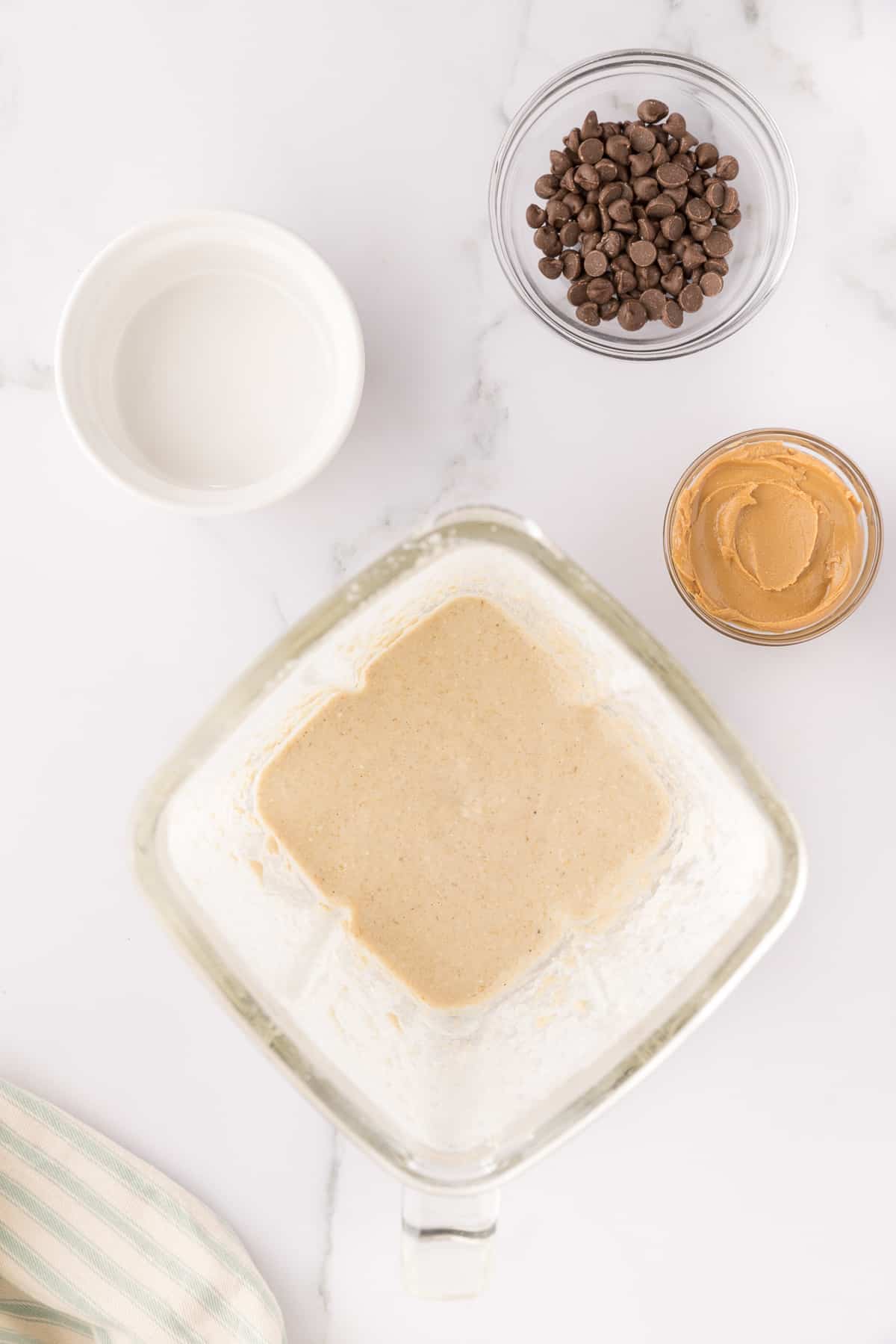 Add the banana, egg, milk, maple syrup and baking powder to the blender. Blend on high for one minute or until all of the ingredients are fully combined.
Chef's Note: we are using oats instead of flour so you do not need to worry about over-mixing the ingredients. Keep blending until everything looks really smooth. The final mixture will look fairly runny but will firm up upon baking.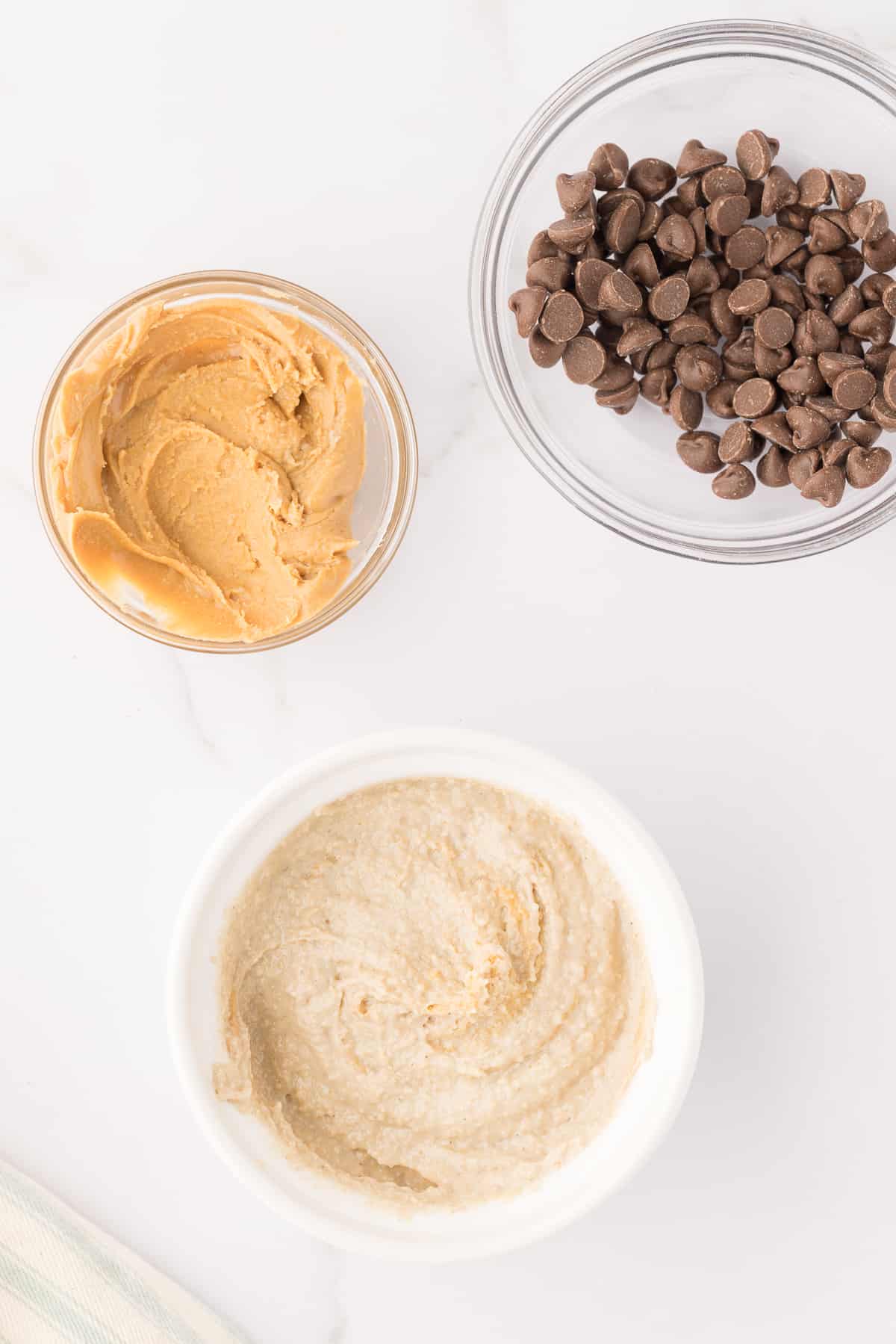 Divide the ingredients evenly between the two ramekins.
Add 1 tablespoon of peanut butter to each ramekin and mix to combine.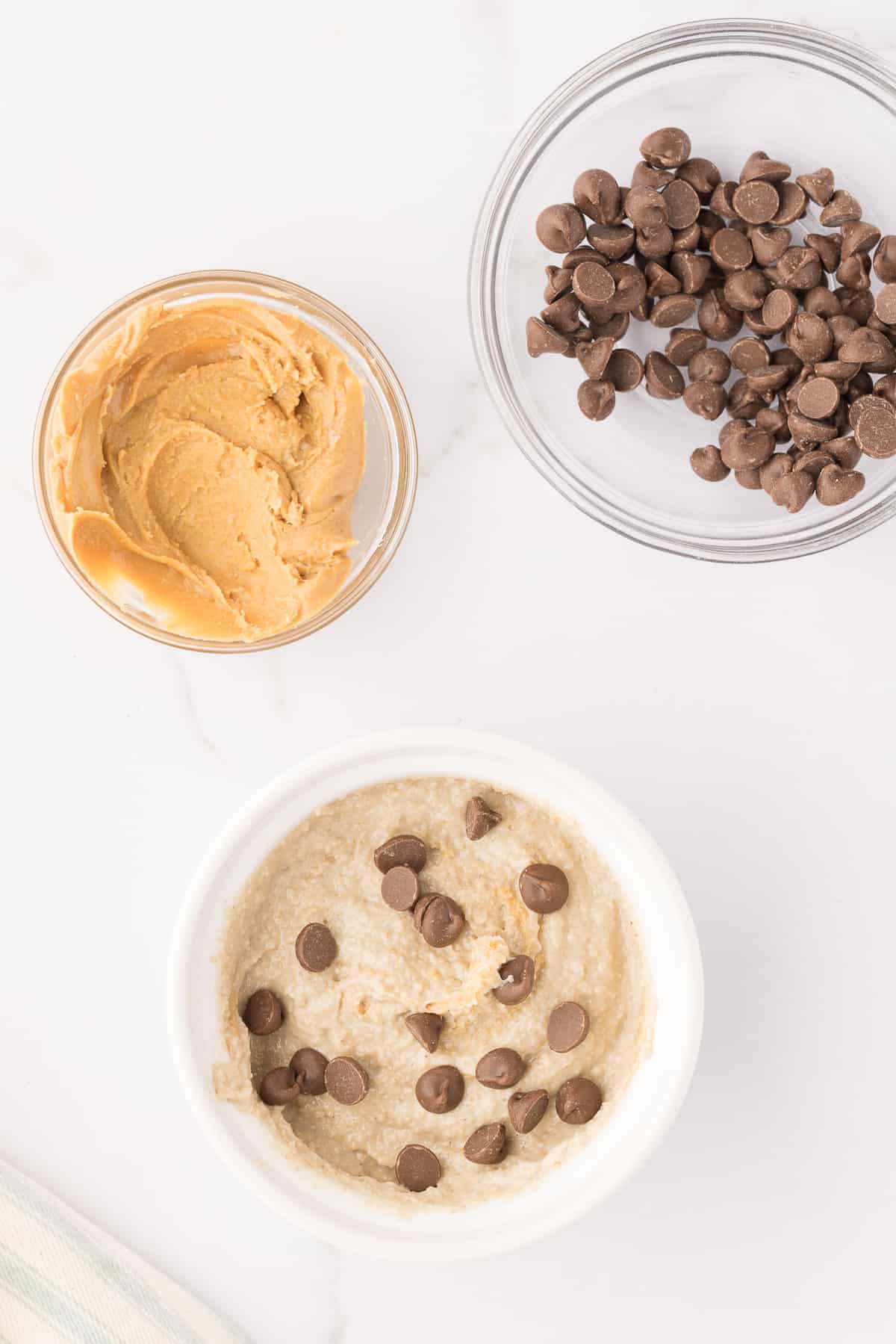 Add most of the chocolate chips and mix. Scatter the remaining chocolate chips on top of the mixture.
Bake in the center of the preheated oven for 20-25 minutes or until the oats have risen and are springy to the touch. Be careful not to over-bake as the oats will dry out.
Present!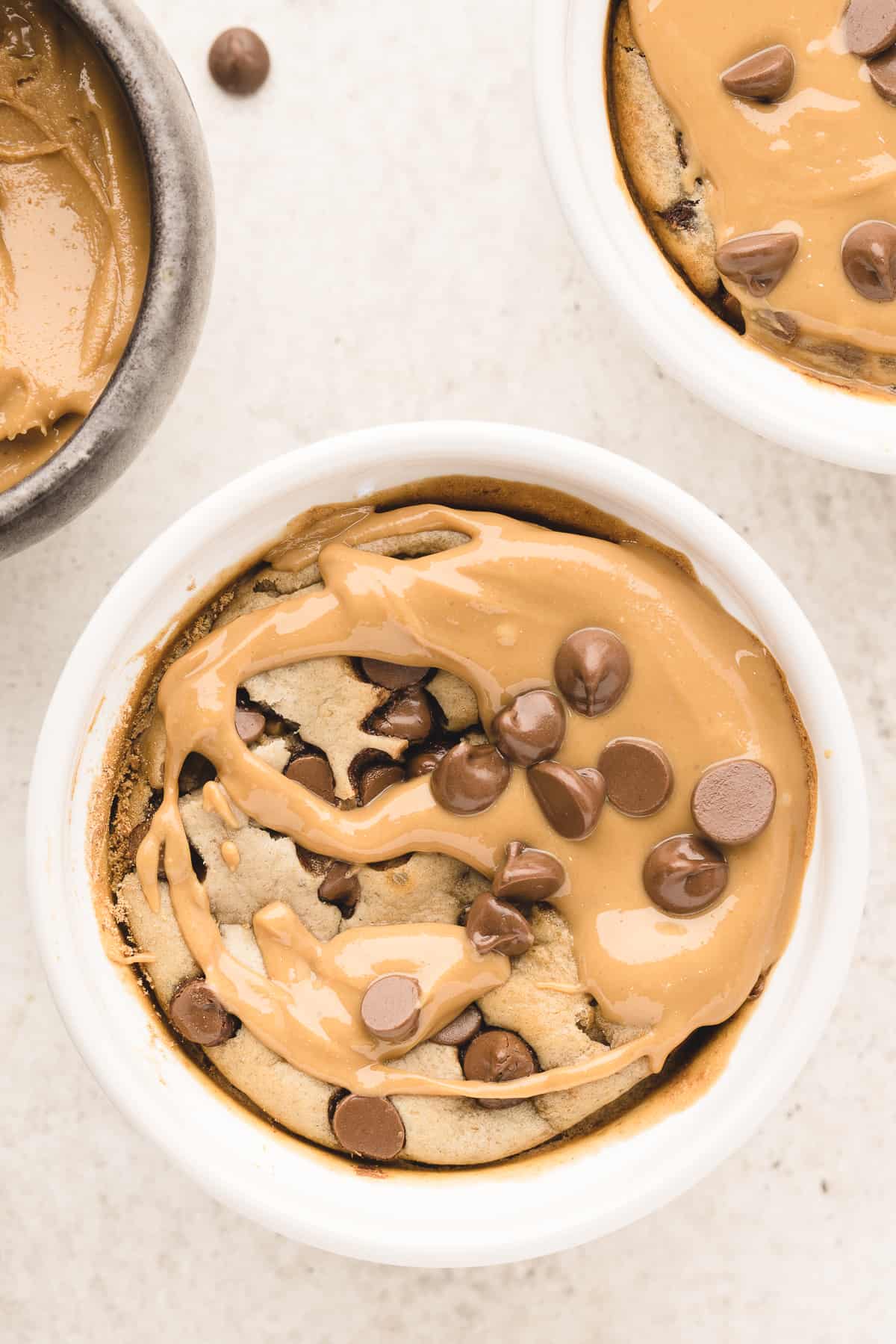 Drizzle the extra peanut butter over the warm baked oats.
Serve immediately.
Tips and Techniques
To make this recipe vegan use maple syrup and not honey. You can use flaxseed egg instead of a regular egg. Combine 1 tablespoon of ground flaxseed and 3 tablespoons of water. Allow to sit for 5 minutes then use in place of the egg in the recipe.
You can skip the egg altogether however the oats may not rise as much.
You can substitute 1/2 cup applesauce for the banana.
This recipe can be increased easily. If you are making it in a larger dish with higher quantities, increase the baking time by ten minutes. You will know the oats are cooked when they have risen, feel springy to the touch, and are shrinking away from the edges of the dish.
Tightly cover and refrigerate leftovers for up to 2 days. Reheat in the microwave until piping hot.
FAQ's
Can Blended Baked Oats Be Made Without Banana?
Yes. You can substitute 1/2 cup of applesauce for the banana in blended baked oats.
Are Baked Oats Good For You?
In generally, oats are very good for you. They are high in fiber and may help to control blood sugar. If you want a healthier breakfast, be aware of what you may be adding to your oats, as some mix-ins can be higher in sugar than others.
Can You Blend Oats In A Blender?
Yes, you can blend oats in a blender. It may take a minute or two if you are blending them into a fine flour-like consistency depended on the type of blender being used.
More Oatmeal Recipes
Love this Peanut Butter and Chocolate Blended Baked Oats recipe? Follow me on Pinterest, Instagram, and Facebook for more!
If you try this recipe, I would really appreciate it if you would please leave a comment and star rating. Thanks!