Blackened Shrimp Tacos is a quick and easy dinner recipe. Spicy shrimp and sweet mango salsa make for the perfect combination of flavors that will have your taste buds exploding with delight.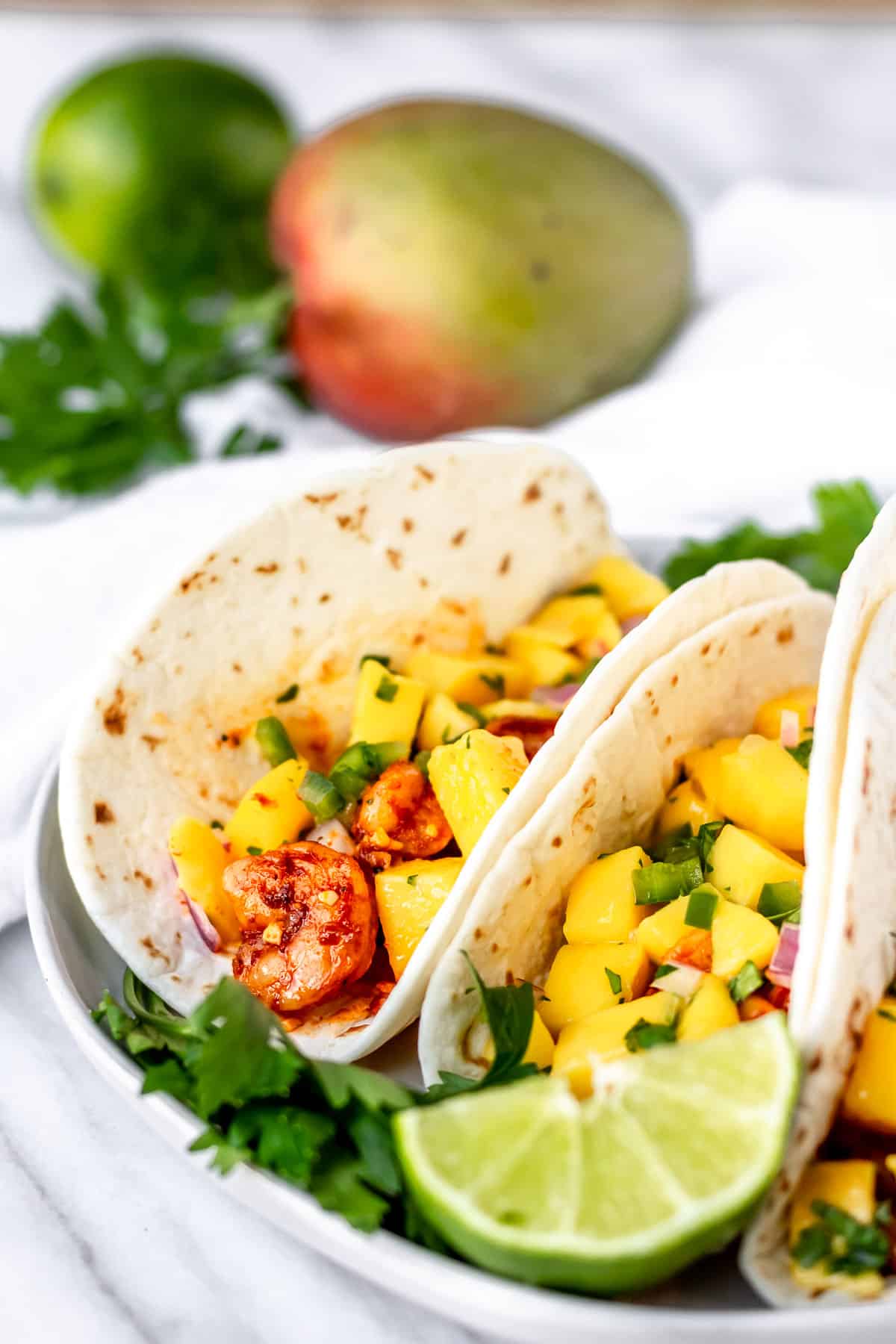 This post contains affiliate links. See our Disclosure Statement for more information.
If you've been searching for simple, yet flavorful, dinner recipes, look no further. These Blackened Shrimp Tacos with Mango Salsa are it!
Succulent shrimp are tossed in Blackening Seasoning, then only need to marinate long enough for you to make the Mango Salsa, or about 20 minutes. Once the salsa is ready, the shrimp take just minutes to cook.
My recipe for Blackened Fish Tacos is very similar, but has a cabbage slaw and avocado cilantro lime crema sauce that could also be used in this recipe instead of the fruit salsa, if you'd prefer.
Why This Recipe Works
This is a super easy recipe to make, and very quick to come together, as well. It's perfect for busy weeknights.
It's incredibly flavorful and the perfect balance of sweet and spicy.
A milder, kid-friendly version can be made with a few changes. First, make your own blackening seasoning but omit the cayenne pepper. For the salsa, omit the jalapeño pepper.
Step-By-Step Instructions
Ingredients
Blackened Shrimp
1 pound shrimp (peeled, deveined, tails removed): small or medium will work best for this recipe.
1 tablespoon blackening seasoning (can use Homemade Blackening Seasoning or store bought)
1 tablespoon extra virgin olive oil
2 cloves garlic (minced)
8 tortillas
Mango Salsa
2 mangos (peeled and cut into small cubes)
1/4 cup red onion (finely diced)
1 jalapeño pepper (finely diced): you could also use a red chili pepper or omit for milder salsa.
1/2 lime (juiced)
1 teaspoon minced fresh cilantro
The entire recipe and instructions can also be found in the recipe card at the bottom of this post. You can also print the recipe from the card, if needed.
Prep!
Completely peel the shrimp, including the tails, and devein.
Dice the mango, red onion and jalapeño pepper. Mince the garlic and cilantro. Juice the lime.
Chef's Tip: dicing a mango can be tricky if you've never done it before, or if it's been awhile. You can refer to this resource on How To Cut A Mango, if needed.
Create!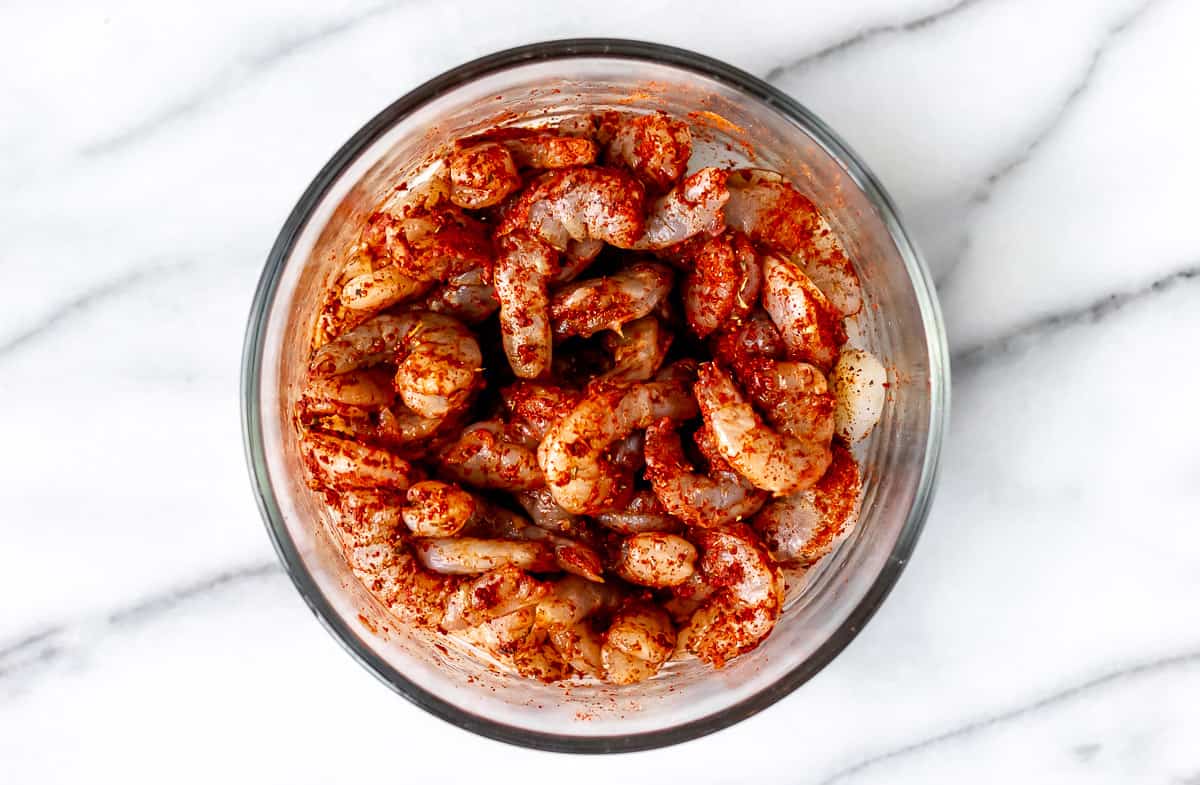 Toss the shrimp and blackening seasoning together in a medium bowl. Set aside to marinate for about 20 minutes.
While the shrimp are marinating, make the mango salsa.
Combine the mango, red onion, jalapeño pepper, lime juice and cilantro in a medium bowl. Stir well to combine. Set aside.
Once the shrimp are done marinating, heat the olive oil in a large skillet over medium-high.
Add the shrimp in a single layer and cook for 1-2 minutes. Flip and cook an additional 1-2 minutes or until opaque.
Add the garlic and cook, stirring constantly, for 30 seconds.
Present!
To serve, fill tortillas with shrimp and top with mango salsa. You can add an extra squeeze of lime juice and/or more cilantro, if desired.
Chef's Tip: for an alternative topping idea, use pineapple in place of mango or try the cabbage slaw and avocado cilantro lime crema from this recipe for Blackened Fish Tacos.
Tips and Techniques
Pineapple can be substituted for mango in the salsa. You could also top these tacos with the cabbage slaw and avocado cilantro lime crema from my recipe for Blackened Fish Tacos.
Extra mango salsa can be stored in an airtight container in the refrigerator. It goes great on many chicken, pork or fish dishes or enjoy it on tortilla chips. Consume within 5 days.
Store leftover shrimp in an airtight container in the refrigerator. Consume within 3-4 days.
FAQ's
Can you Use Frozen Mango To Make Mango Salsa?
You can use frozen mango to make mango salsa. You will need to let it defrost first then dice it smaller, if necessary.
What Sides Do You Serve With Shrimp Tacos?
Some sides that pair well with fish tacos are:
More Shrimp Recipes
Love this Blackened Shrimp Tacos recipe? Follow me on Pinterest, Instagram, and Facebook for more!
If you try this recipe, I would really appreciate it if you would please leave a comment and star rating. Thanks!