Biscoff Blondies are one of the most delicious ways to enjoy Biscoff cookies. The blondies have a slightly fudgy center, and are filled with white chocolate chips and chopped Biscoff cookies, giving them a nice texture. They are finished with extra chopped Biscoff cookies on top, followed by a drizzle of Biscoff spread.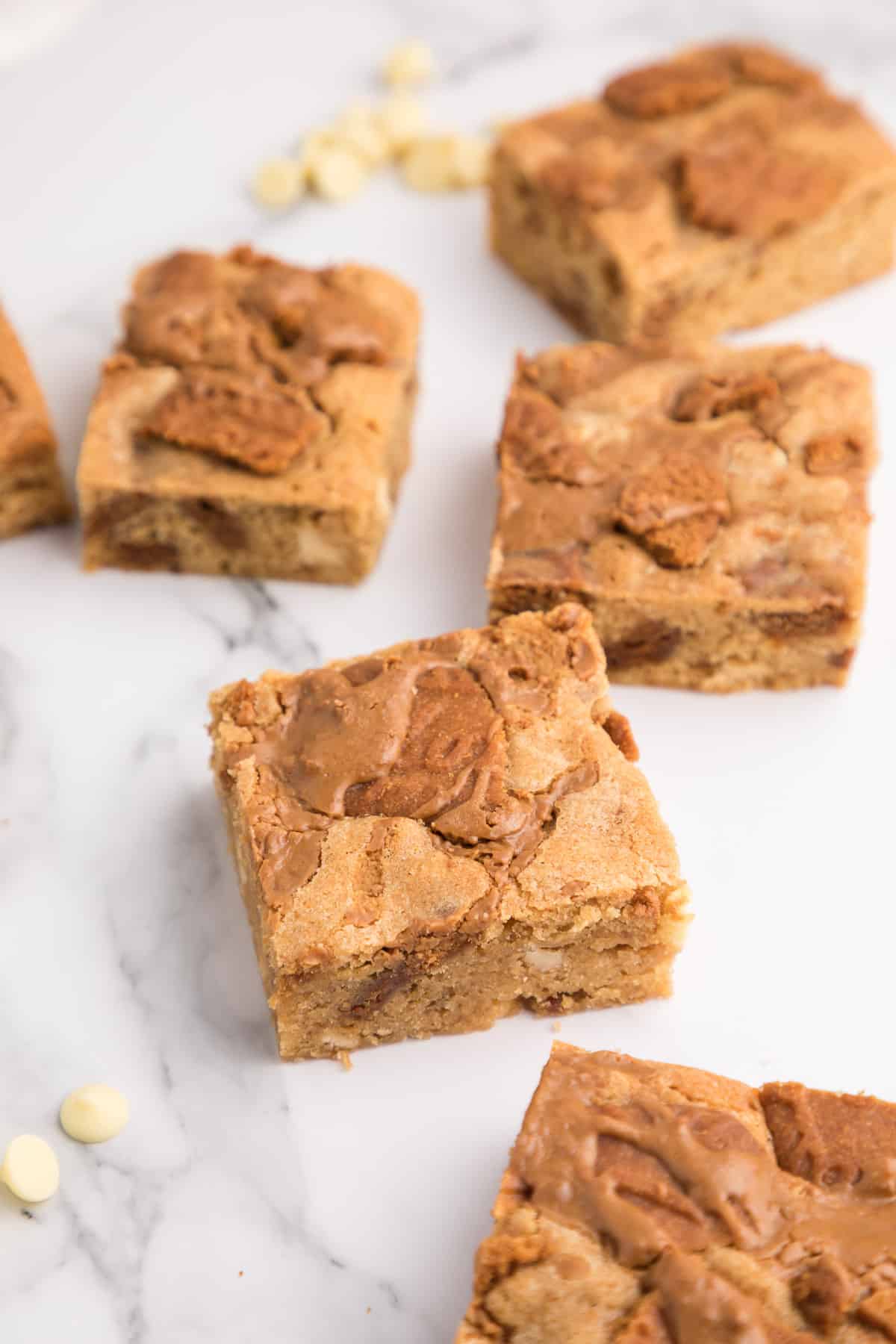 This post contains affiliate links. See our Disclosure Statement for more information.
Have you heard of Biscoff cookies? Biscoff has been growing very quickly in popularity in the United States over the last several years but was actually invented in Belgium in 1932.
I made these blondies because back in culinary school, my pastry instructor had just discovered Biscoff and was obsessed with it, so we were always given the option to use it whenever possible.
And let me tell you, using Biscoff cookies in blondies is the perfect way to elevate these classic dessert bars! This is a quick and easy recipe that gives you thick and chewy bars every single time.
Why This Recipe Works
This recipe is as quick and easy to make as a boxed blondie mix, but it tastes way better!
It's a delicious way to use Biscoff. Even if you've never tried these cookies before, you'll fall in love with them after making this recipe.
These bars are the perfect snack or treat for holidays and entertaining.
Step-By-Step Instructions
Ingredients
1/2 cup salted butter: if using unsalted butter, add 1/4 teaspoon of salt to the batter.
1/2 cup Biscoff spread: smooth or crunchy both work.
3/4 cup brown sugar
2 eggs
1 teaspoon vanilla extract
1 cup all purpose flour
1/2 teaspoon baking powder
1/2 cup white chocolate chips: dark, semi-sweet, or milk chocolate chips can be used instead, if preferred.
16 Biscoff cookies (divided into 10 and 6 cookies, roughly chopped)
1/4 cup Biscoff spread, (melted, optional for drizzling over the blondies)
The entire recipe and instructions can also be found in the recipe card at the bottom of this post. You can also print the recipe from the card, if needed.
Prep!
Preheat oven to 325°F. Grease or line with parchment paper an 8-inch square baking pan. Set aside.
Create!
Add the butter and Biscoff spread to a large microwave safe mixing bowl. Microwave in 15-second increments until melted, stirring after each increment until smooth and well combined.
Add the brown sugar, eggs and vanilla extract to the mixing bowl and mix until well combined.
Add the flour and baking powder and mix until just combined.
Fold through the white chocolate chips and 10 of the chopped Biscoff cookies.
Pour the batter into the prepared baking pan. Sprinkle over the remaining 6 chopped Biscoff cookies, and drizzle over the melted Biscoff spread.
Bake the blondies for 25 minutes, or until the edges and top have set but the middle is still soft. Allow to cool completely in the pan.
Present!
Once cooled, remove the blondies from the pan and cut into pieces.
Tips and Techniques
If using unsalted butter, add 1/4 teaspoon salt to the batter.
Dark, semi-sweet or milk chocolate chips can be used instead of white, if preferred.
Store leftover blondies in an airtight container at room temperature. Consume within 3 days.
FAQ's
What Is Biscoff?
Biscoff cookies are a specific brand of cookies made by the Lotus company. Biscoff is a brand name, they are actually speculoos cookies. These cookies are unique. They are crispy, with a shortbread-like texture and have an unmistakable spice to them. They taste like sweeter, crispier gingerbread cookies, without so much ginger.
What Are Blondies?
Blondies are a variation of brownies. Brownies are often made with lots of rich chocolate. Blondies are usually made with a base of brown sugar and butter. Just like brownies, they have a fudgy, cake-like texture and are often cut into bars.
Can You Freeze Blondies?
Blondies are suitable for freezing. Freeze in an airtight container for up to 3 months. Defrost at room temperature before enjoying.
More Bar Recipes
Love this Biscoff Blondies recipe? Follow me on Pinterest, Instagram, and Facebook for more!
If you try this recipe, I would really appreciate it if you would please leave a comment and star rating. Thanks!