This post is sponsored by Hidden Valley Ranch but the content and opinions expressed here are my own.
It's no secret that Hidden Valley Ranch Dressing is the best Ranch Dressing. What was a secret up until now was how to make Hidden Valley Restaurant Style Ranch Dressing in the convenience of your own home.
Learn how to make this rich, creamy version of Ranch Dressing plus the 10 best way to use it!
Hidden Valley has long been the secret ingredient used in many restaurant's own Ranch Dressing that they make in-house. In fact, it's the #1 Ranch Mix used in restaurants.
Now, you can make your own restaurant-style Ranch Dressing in your own kitchen. All you need is a packet of Hidden Valley Restaurant Style Ranch, a handful of simple ingredients, and a few minutes!
How to Make Hidden Valley Restaurant Style Ranch Dressing
Making Hidden Valley Restaurant Style Ranch Dressing in your own home is quick and simple!
You only need a few ingredients, in addition to a packet of Hidden Valley Restaurant Style Ranch Dressing Mix, including mayonnaise, sour cream, buttermilk, garlic and chives.
Simply mix it all together, chill for 30 minutes or so to give it time to thicken, then enjoy!
Check out the full recipe HERE to find out how to make the restaurant-quality ranch you love from your own home!
Need some inspiration on how to use your freshly made Ranch Dressing? Check out these 10 best uses for Ranch Dressing below!
The 10 BEST Uses for Ranch Dressing
Now that you know how to make your own Hidden Valley Restaurant Style Ranch Dressing, you've got to put it to good use! Here are the 10 best ways to use Ranch dressing!
Salad
It probably goes without saying that Ranch Dressing is absolutely perfect on top of a big bowl of salad. Whether as a side or entree, a salad topped with Ranch Dressing will not disappoint!
Veggie Sticks and Other Raw Vegetables
Vegetables and Ranch Dressing go hand-in-hand. Sticks of celery and carrots are perfect for dipping into a bowl of Ranch Dressing. Also try broccoli, cauliflower, cucumbers, and tomatoes.
Chicken Wings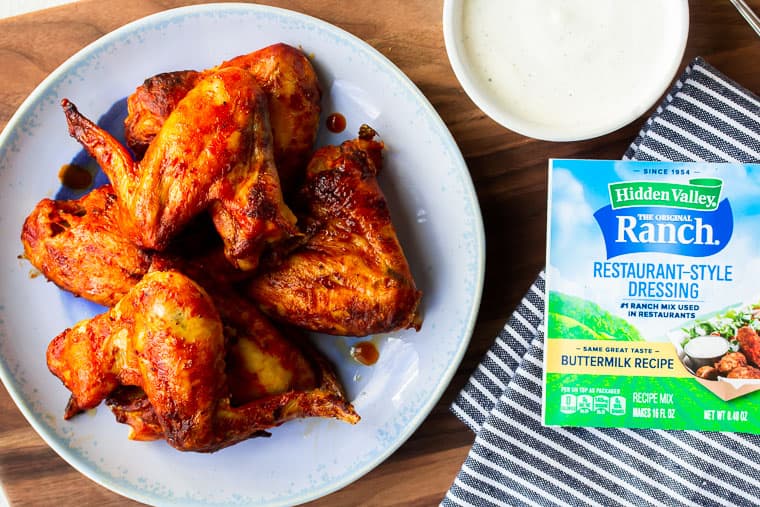 Both mild and hot wings are even tastier when dunked into rich, creamy Ranch Dressing!
Chicken Nuggets
Kids especially love a side of Ranch Dressing to accompany one of their all-time favorite meals – chicken nuggets!
Casseroles
Ranch Dressing lends it's signature flavor and extra creaminess to your favorite casserole dishes. This Ranch Bacon Chicken Casserole is a perfect example!
Pizza
That's right, pizza just got even better! Dip your slice into Ranch Dressing for a nice blend of zesty sauce and cool, creamy flavor.
Loaded Fries/Potato Skins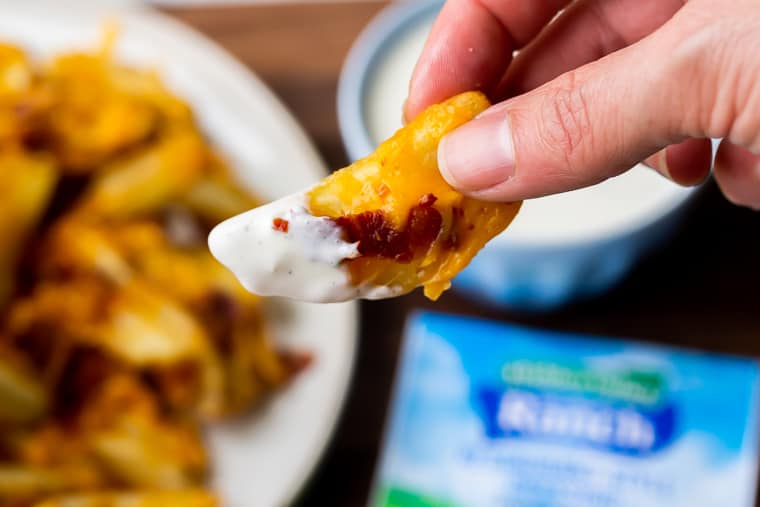 Move over sour cream, there's a more flavorful dip for your loaded fries and potato skins! Ranch Dressing is the perfect side to these appetizers.
Low carb? No problem – try some Ranch Dressing on Loaded Cauliflower Bites instead!
Wrap Sandwiches
Next time you're making wraps for lunch, toss a little Ranch Dressing in there. You won't be disappointed!
Jalapeno Poppers
Whether you prefer traditional jalapeno poppers, or more unique flavors like Buffalo Chicken Jalapeno Poppers, they all get a boost of flavor with a little swim in some Ranch Dressing!
Buffalo Chicken Cheesesteaks
You can add Ranch Dressing to Buffalo-flavored anything and love the result, but it is especially tasty on a Buffalo Chicken Cheesesteak!
Of course there are tons more uses for Ranch dressing. Some reader favorites include: with bread sticks, in pot roast recipes, and even in scrambled eggs!
How do you plan to use Hidden Valley Restaurant Style Ranch next? Pick up a packet or two, follow this recipe, and enjoy!