Everyone should try this simple, family friendly recipe for a Keto Cheesy Barbecue Ground Beef and Cauliflower Skillet. Not only is this one pan meal quick and easy to prepare, but it is also flavorful, naturally gluten free, and may be adapted to fit a variety of diet regimes.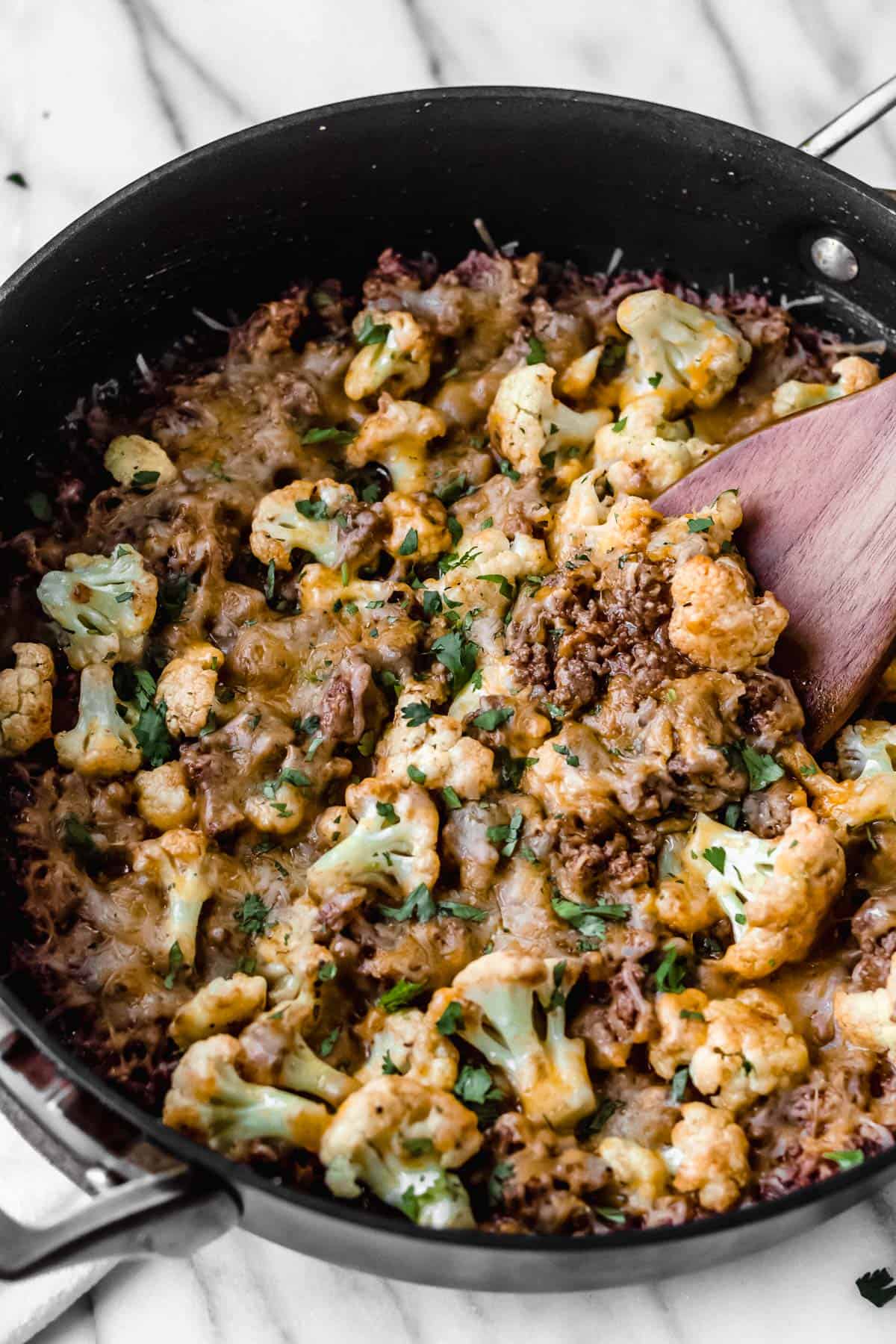 This post contains affiliate links. See our Disclosure Statement for more information.
Cheesy Barbecue Ground Beed and Cauliflower Skillet is a gluten free, family-friendly dish, inspired by a crescent ring recipe which my husband usually likes to make.
Since crescent dough is obviously not low carb and we wanted a similar low carb option, I decided to substitute cauliflower for the dough instead, but to otherwise keep the same flavors of the original dish.
After realizing how popular my recipe for Keto Italian Ground Beef Cauliflower Skillet has been amongst readers, I decided to create even more keto friendly cauliflower and ground beef recipes.
Ground beef and cauliflower recipes combine two flavors which perfectly complement one another, so I knew this new recipe would be a delicious success; just like Keto Beef Stroganoff, Keto Mexican Beef Bowls, and Coconut Curry Beef.
This one pan dinner is sure to win over the appetites of those who enjoy the tasty combination of cauliflower ground beef. It is a great, quick recipe to add to your rotation of easy, cheesy meals.
Why This Recipe Works
This flavorful Cheesy Barbecue Ground Beef and Cauliflower Skillet uses only simple ingredients and is just as quick and easy to shop for as it is to prepare.
This recipe is adaptable, which means you can add more or less barbecue sauce and cheese, swap out cheddar for mozzarella, or even use ground turkey and chicken instead of beef.
It is a one pan dish too, so there is way less clean-up is involved.
This delicious dish is keto friendly, low carb, naturally gluten free, with only 7 net carbs per serving.
How To Make Cheesy Barbecue Ground Beef and Cauliflower Skillet
Ingredients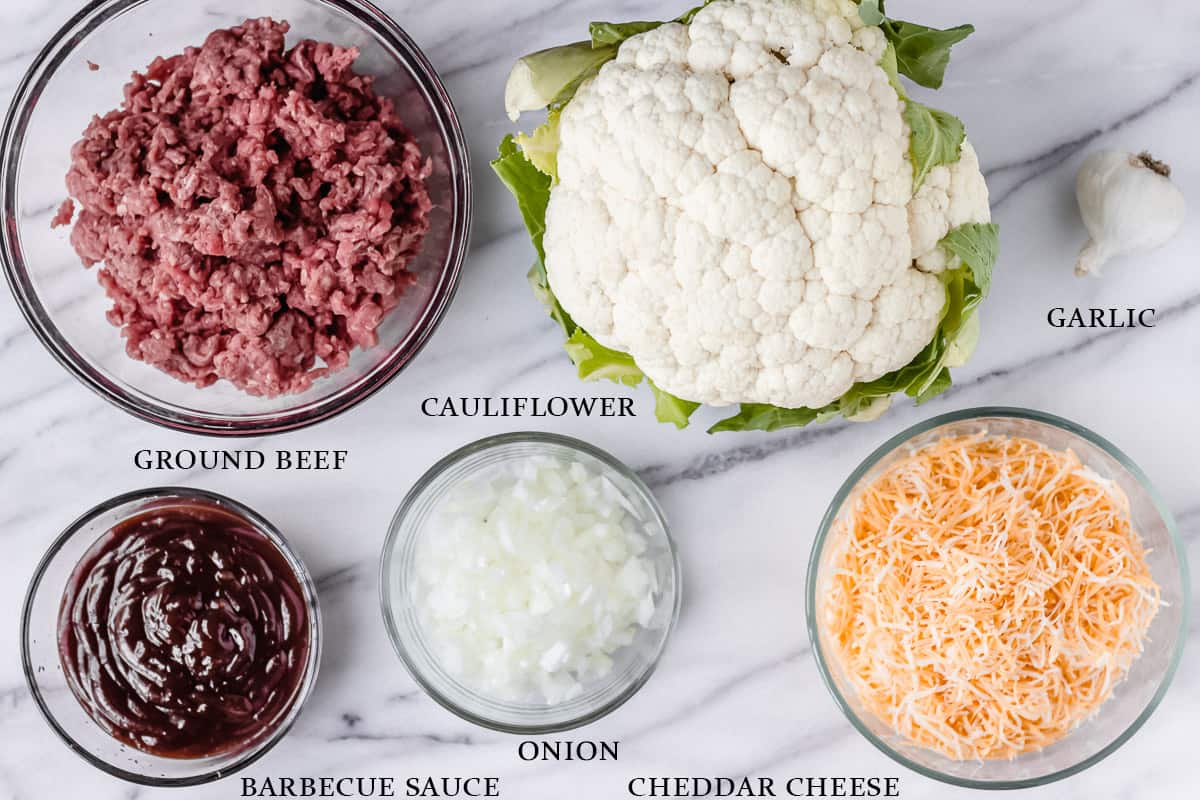 Ground Beef: you can use any type. I based the nutritional calculations off of 90% lean ground beef.
Cauliflower: fresh is best! I have tried using frozen cauliflower in recipes and the texture and flavor just isn't the same. It can be done, but I promise that fresh cauliflower is much more flavorful.
Cheddar Cheese: shred from a block for the best melting and texture. I made this recipe once with leftover pre-shredded cheese and it made the barbecue sauce gritty. To avoid that, take a few extra minutes to shred it yourself. It's worth it!
Onion: I only like Vidalia or sweet onions, but you can use a yellow or white onion.
Barbecue Sauce: nutritional calculations are based off of Sweet Baby Ray's No Sugar Added Barbecue Sauce. I also like G. Hughes as another low sugar option. If you are not limiting sugar or carbohydrates, you can use any barbecue sauce that you like with this recipe.
Garlic
Olive oil, salt, pepper and water are also needed.
The entire recipe and instructions can also be found in the recipe card at the bottom of this post. You can also print the recipe from the card, if needed.
Prep!
Chop the cauliflower into bite-size florets, dice the onion, mince the garlic and shred the cheese.
Preheat your oven to 400°F.
Create!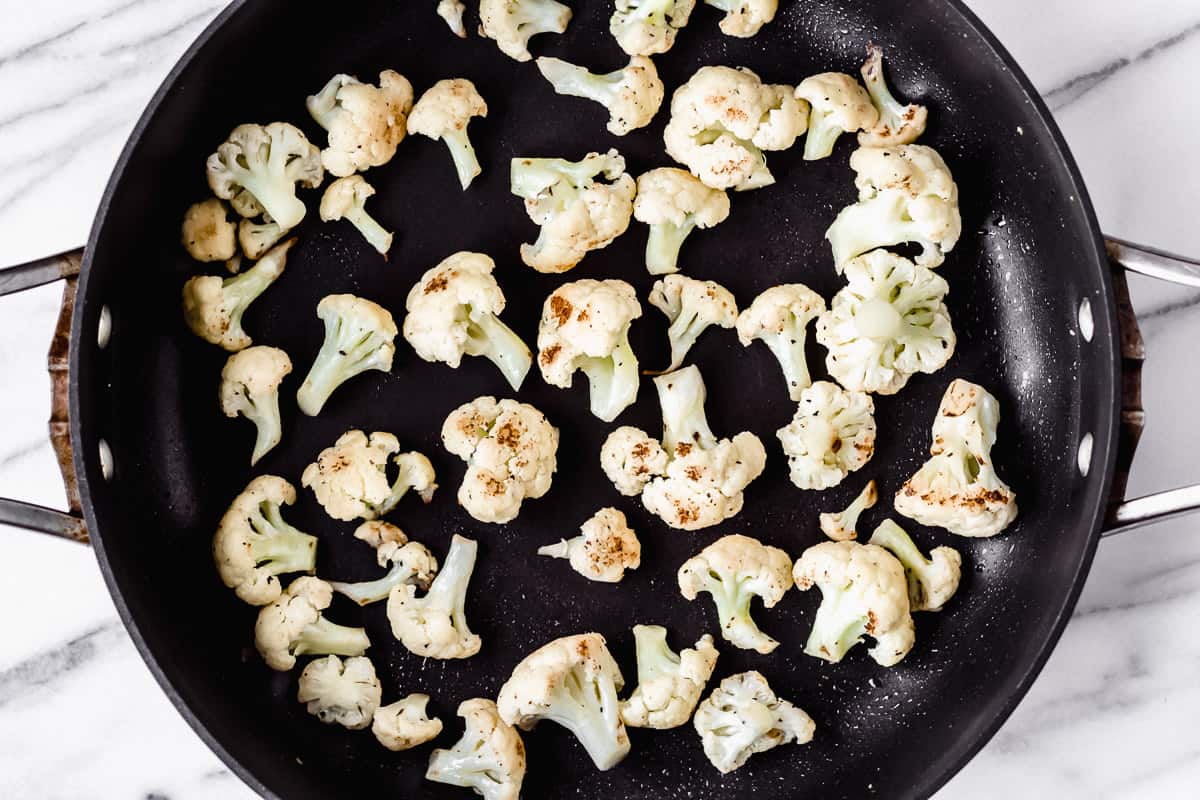 Heat 1 tablespoon of olive oil in a large, oven proof skillet over medium-high heat. Add the cauliflower and season with salt and pepper.
Cook, stirring frequently, for about 2-3 minutes, or until the cauliflower just starts to brown a little.
Pour in the water, cover, and cook the cauliflower, stirring occasionally, until it's just fork-tender – about 3-5 minutes depending on the size of the florets.Remove the cauliflower with a slotted spoon and set aside.
Drain any excess water from the pan and return it to the stovetop.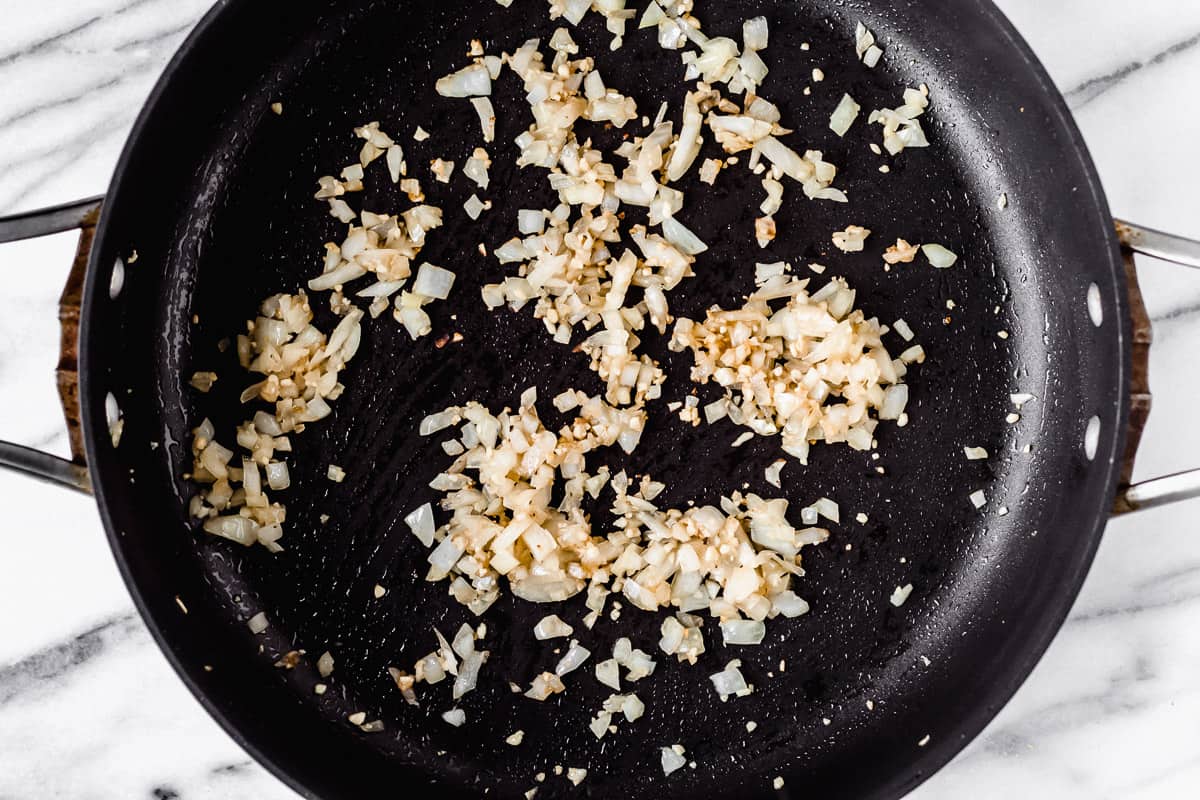 Lower the heat to medium and add the remaining olive oil to the skillet. Add the onion and garlic and cook for 2-3 minutes.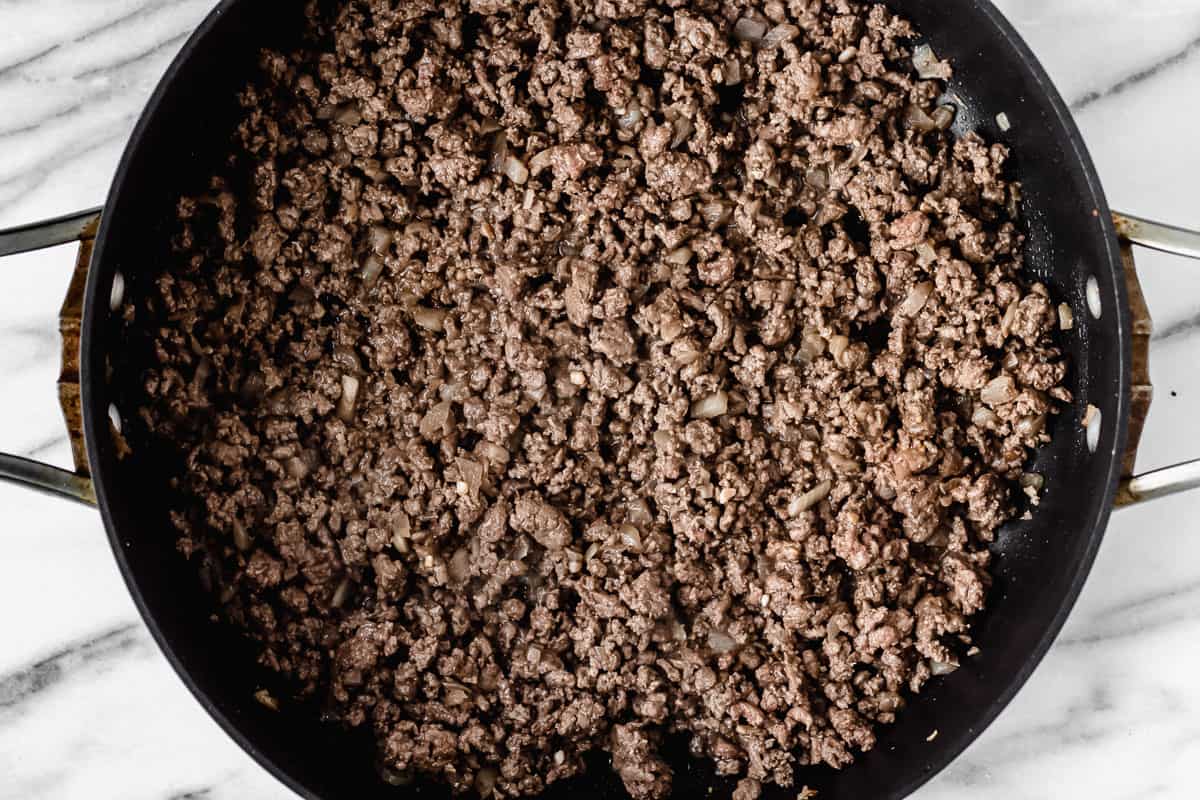 Next, add the ground beef and season with salt and pepper.
Continue to cook, breaking up the beef, until it is no longer pink – about 5-7 minutes.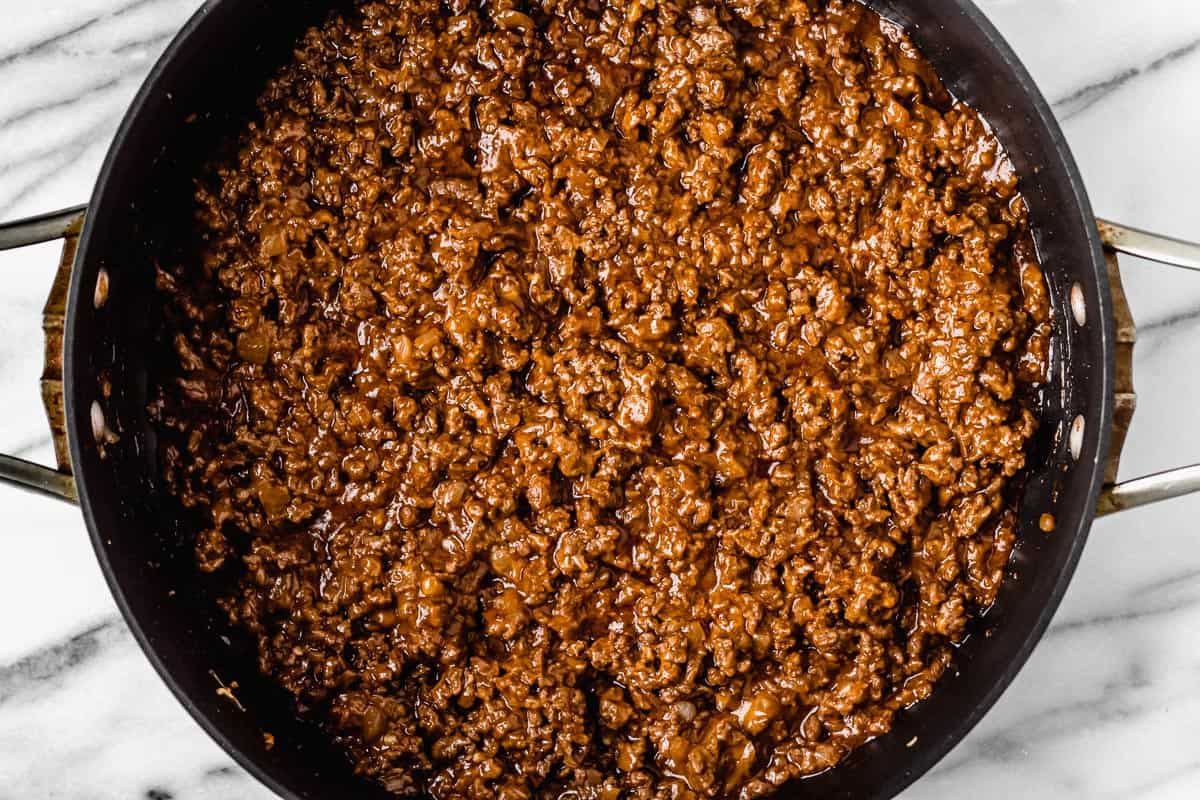 Stir in the barbecue sauce and 1 cup of the shredded cheddar cheese until fully melted and blended.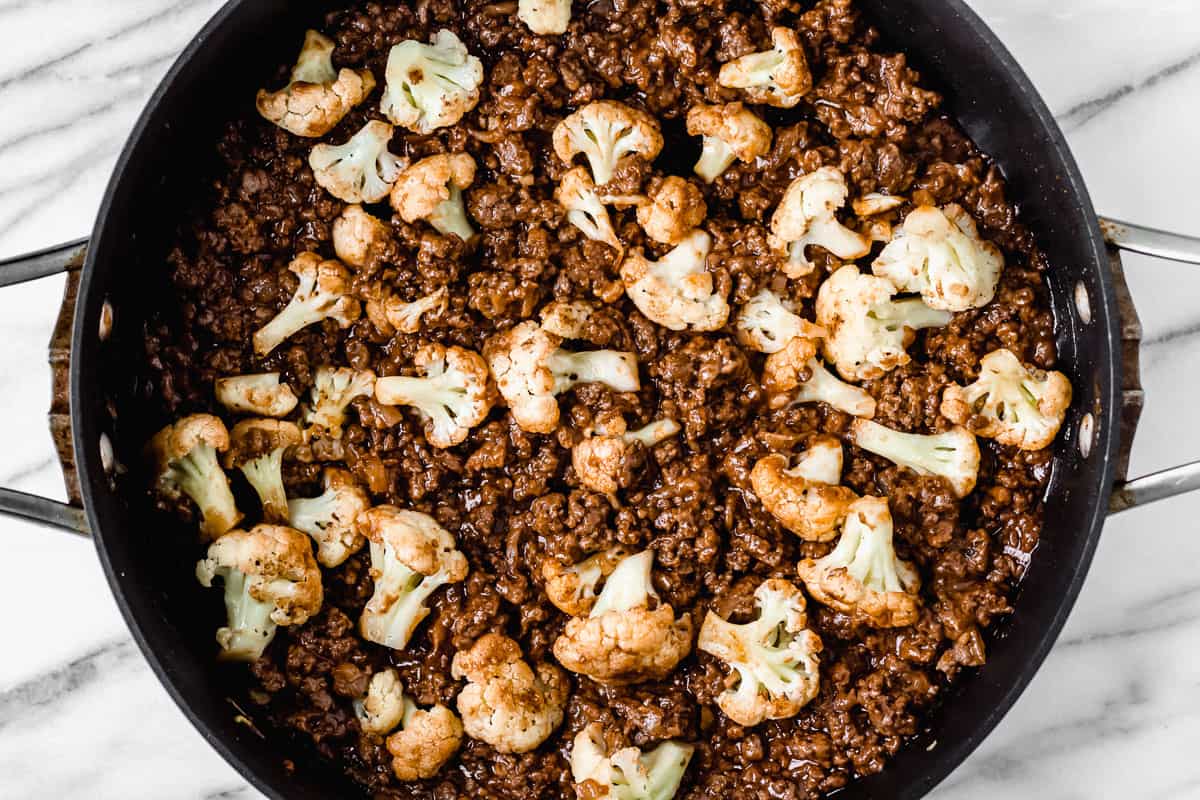 Return the cauliflower to the skillet and toss to combine.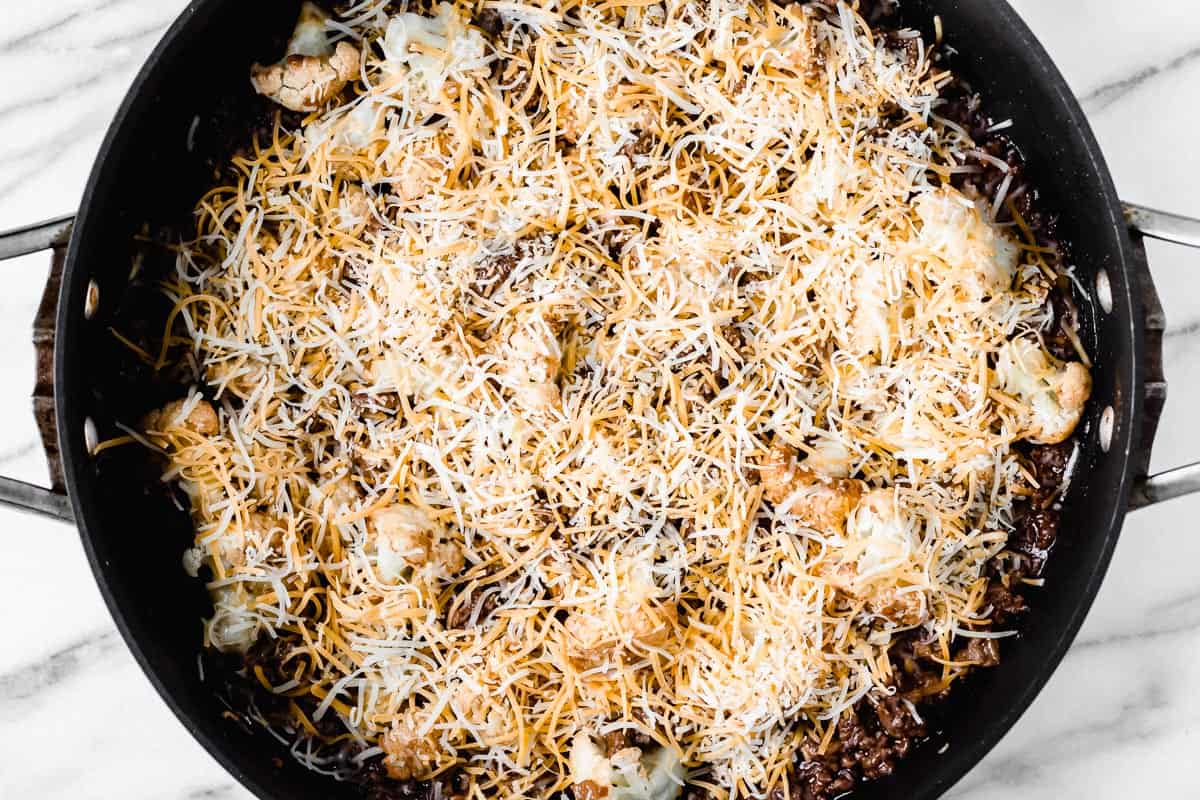 Top with the remaining cheddar cheese and transfer the skillet to the oven.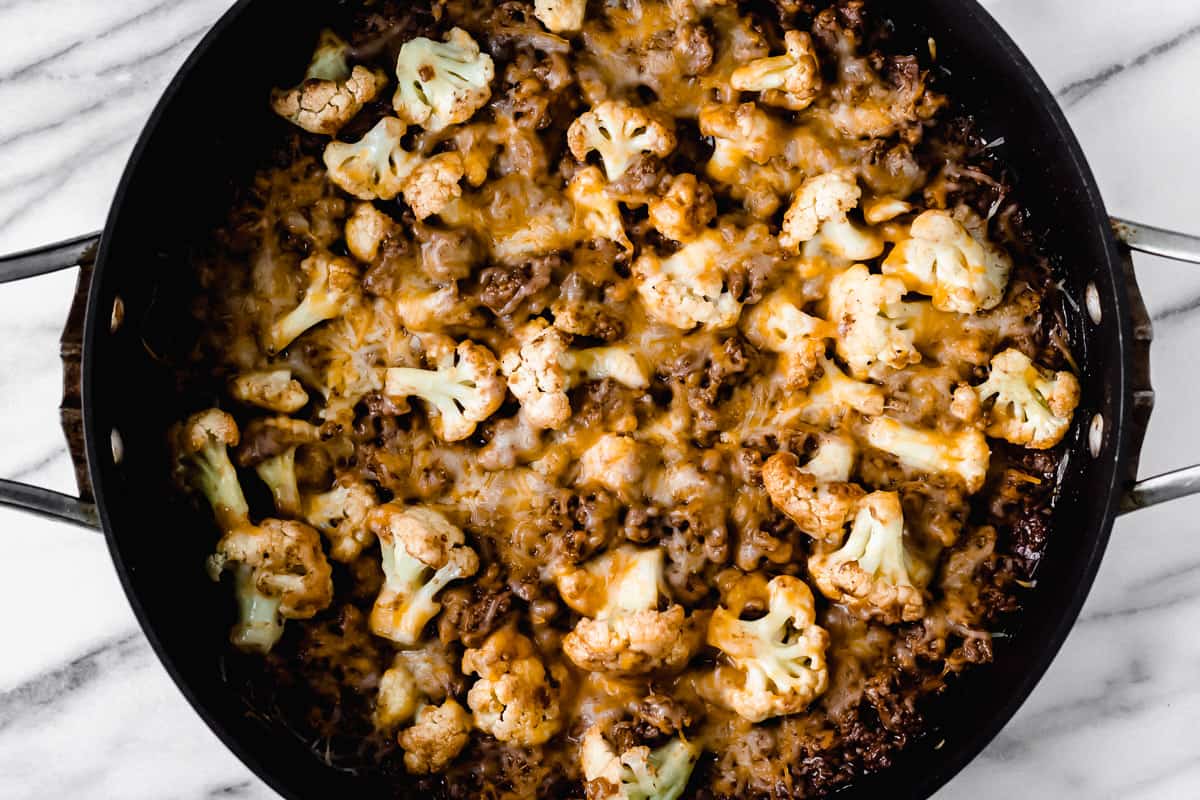 Cook until the cheese is just melted – about 5 minutes.
Present!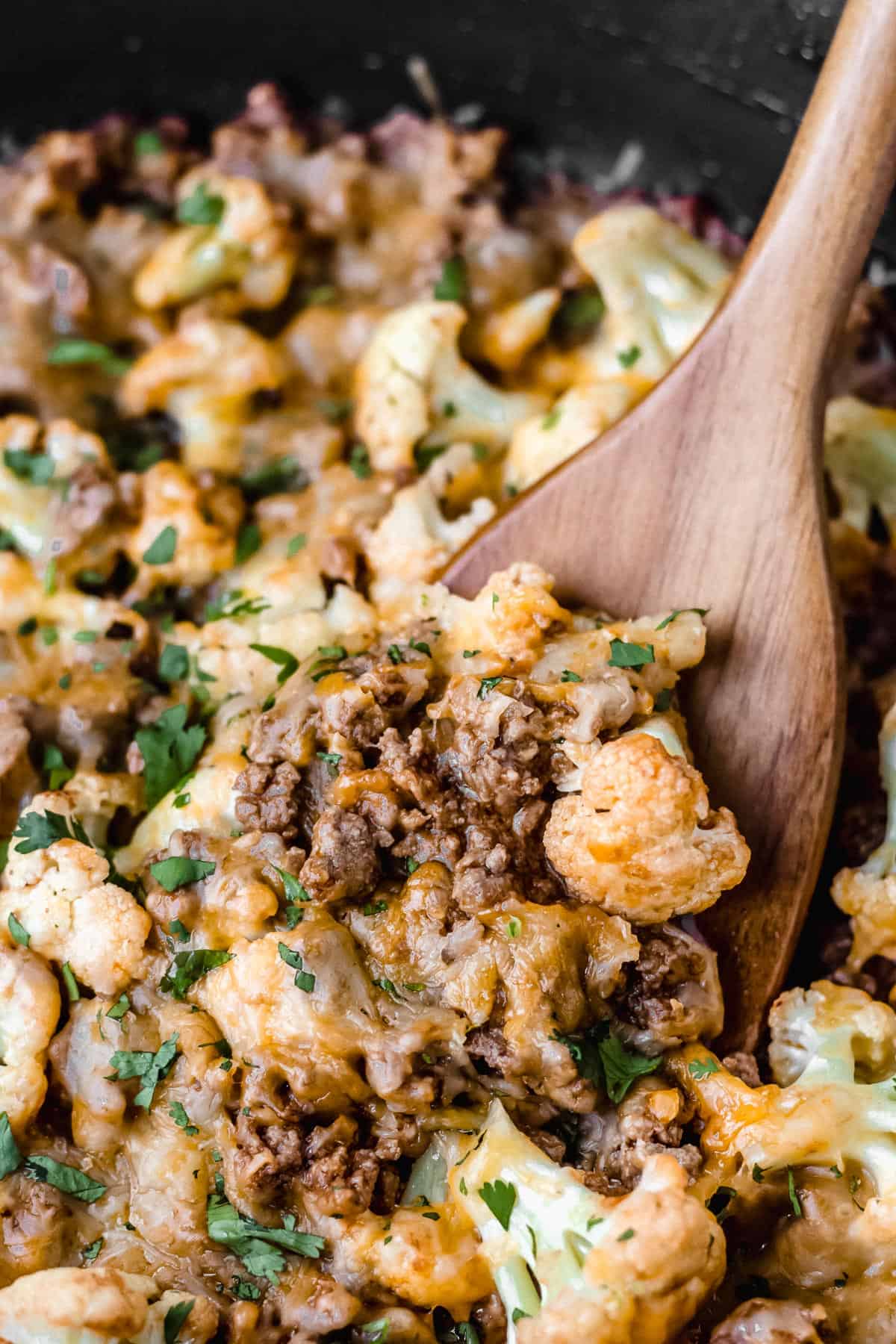 Top with fresh parsley or cilantro, if desired and serve hot.
Tips and Techniques
For the best melting and texture, shred the cheddar cheese from a block. Pre-shredded bags of cheese have an added starch mixed into them which can make the sauce in your recipe have a grittier texture.
Using fresh cauliflower is strongly recommended for the best flavor and texture.
Store any leftovers in an air-tight container in the refrigerator. Use within 3-4 days.
More Keto Ground Beef Recipes
Love this Keto Cheesy Barbecue Ground Beef and Cauliflower Skillet recipe? Follow me on Pinterest, Instagram, and Facebook for more!
If you try this recipe, I would really appreciate it if you would please leave a comment and star rating. Thanks!