Baked Ziti with Vodka Sauce is made with pasta, ground beef, vegetables, spices and plenty of cheese! It's very similar to a traditional baked ziti recipe, but instead of classic marinara sauce, this version uses vodka sauce which is a bit creamier.
This post contains affiliate links. See our Disclosure Statement for more information.
Baked Ziti is a classic, Italian comfort food recipe that has been incredibly popular for a very long time. It's an easy recipe to prepare and makes a fairly large amount making it a great option for meal planning, freezer cooking, or when expecting company for dinner.
This cheesy, family-friendly pasta dish is traditionally made with marinara sauce, but this recipe calls for vodka sauce instead. It's slightly creamier, though still very tomato-y and acidic like regular tomato sauce.
Add a salad or some crusty bread and butter and dinner is ready!
Why This Recipe Works
Baked Ziti is a popular, well-loved Italian recipe.
It's a great option for family dinners or when expecting company, as it's a fairly large casserole and very filling.
You can make Baked Ziti ahead of time and even freeze it to bake at a later date.
Step-By-Step Instructions
Ingredients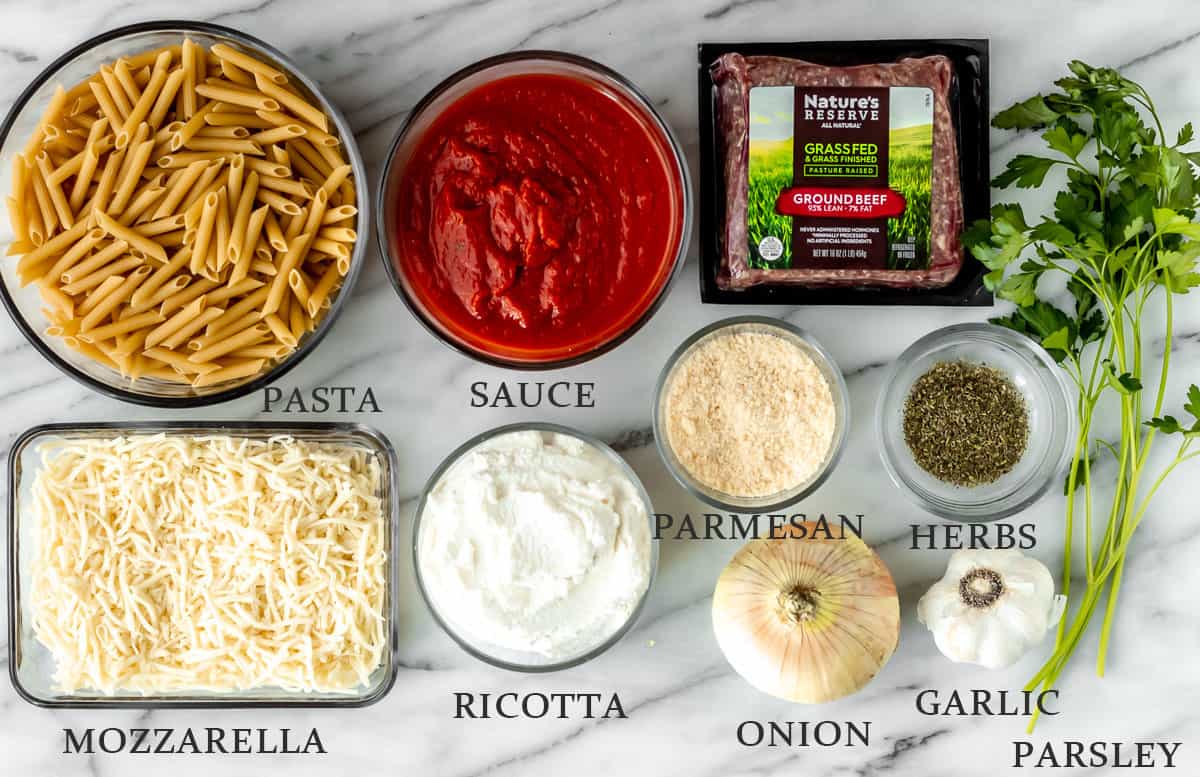 1 pound dried pasta (ziti or penne)
1 tablespoon extra virgin olive oil
1 medium onion, finely diced
4 cloves garlic, minced
2 teaspoons Italian seasoning, divided
1 pound ground beef
salt and pepper
32 ounce jar vodka sauce (our vodka sauce ended up being very red, most are more orange-pink in color)
2 cups ricotta cheese
2 cups mozzarella cheese, shredded and divided
1/2 cup Parmesan cheese, shredded and divided
fresh parsley, minced
The entire recipe and instructions can also be found in the recipe card at the bottom of this post. You can also print the recipe from the card, if needed.
Prep!
Finely dice the onion and mince the garlic.
Preheat your oven to 375°F.
Create!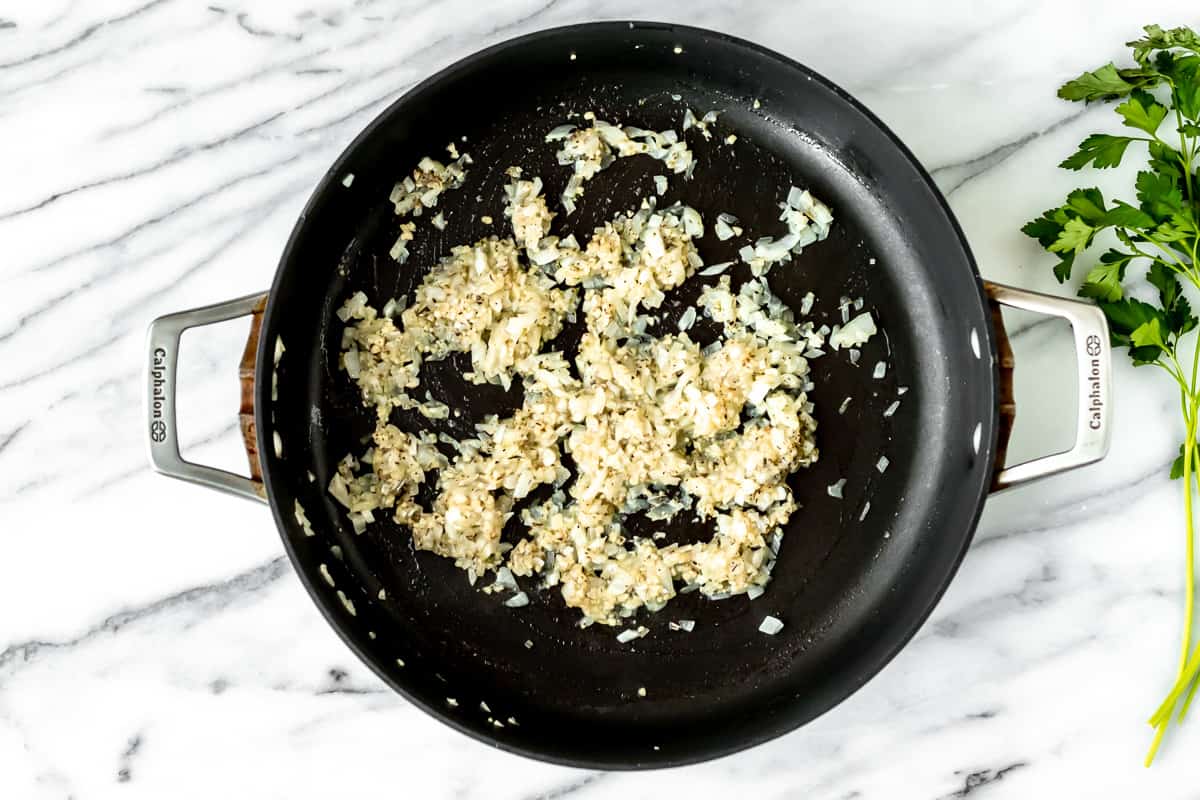 Bring a pot of salted water to a boil. Add the pasta and cook until al dente, about 5-7 minutes. Drain and set aside.
Meanwhile, heat the olive oil in a large deep skillet over medium heat. Add the onion and cook for 2-3 minutes or until translucent. Stir in the garlic and 1 teaspoon of the Italian seasoning and cook an additional 30-60 seconds.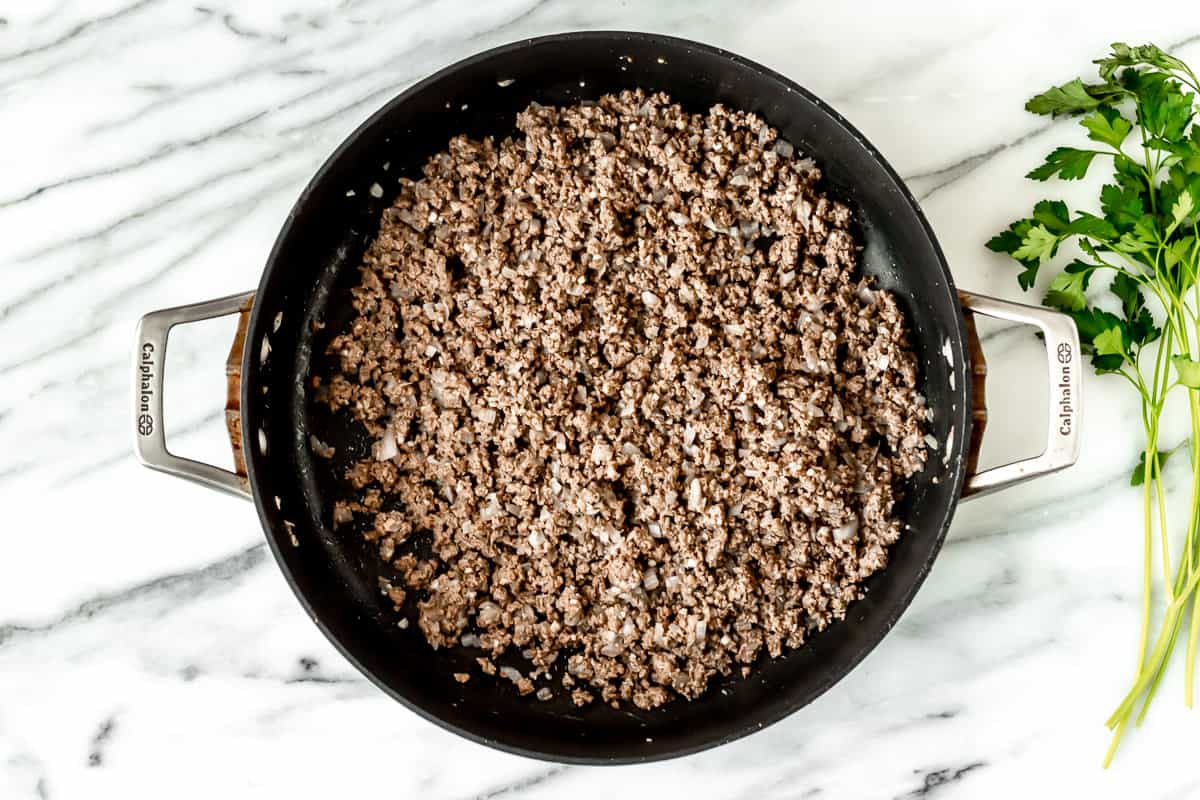 Add the ground beef and season with salt and pepper. Cook, breaking up, until it is no longer pink, about 5-7 minutes. Drain and return to the skillet.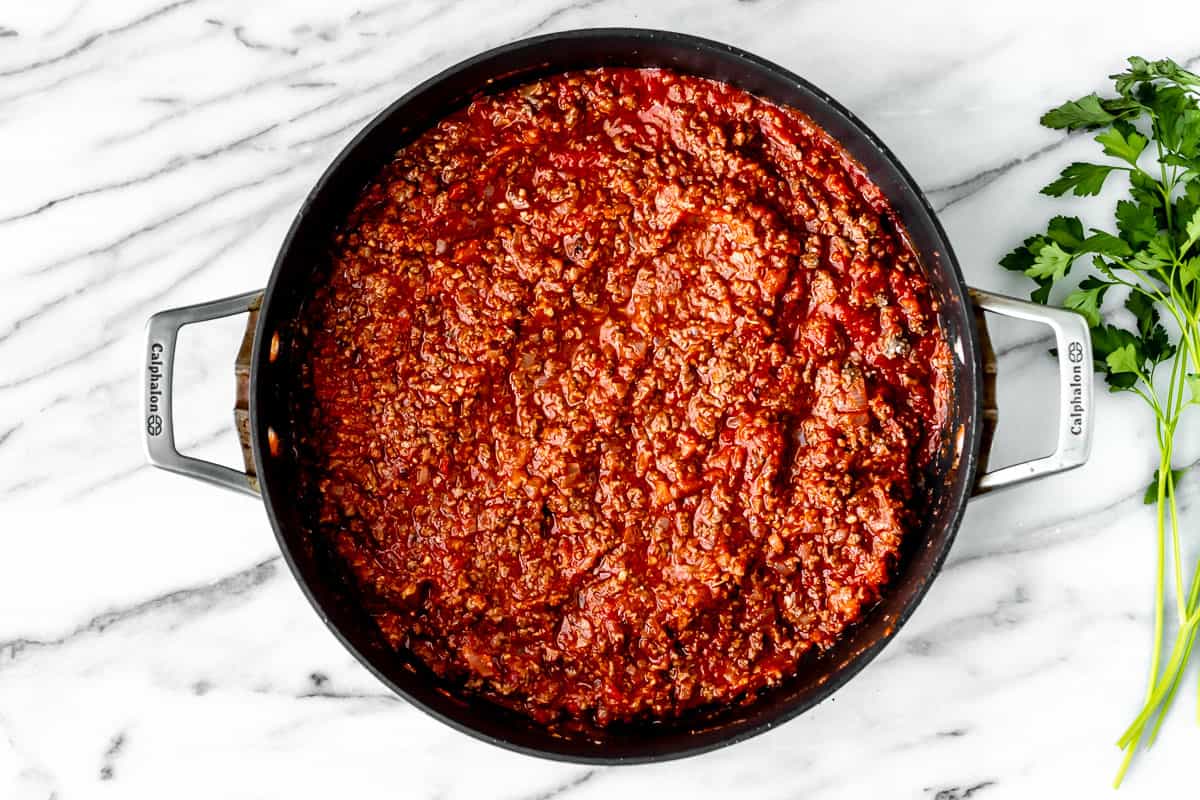 Stir in the vodka sauce.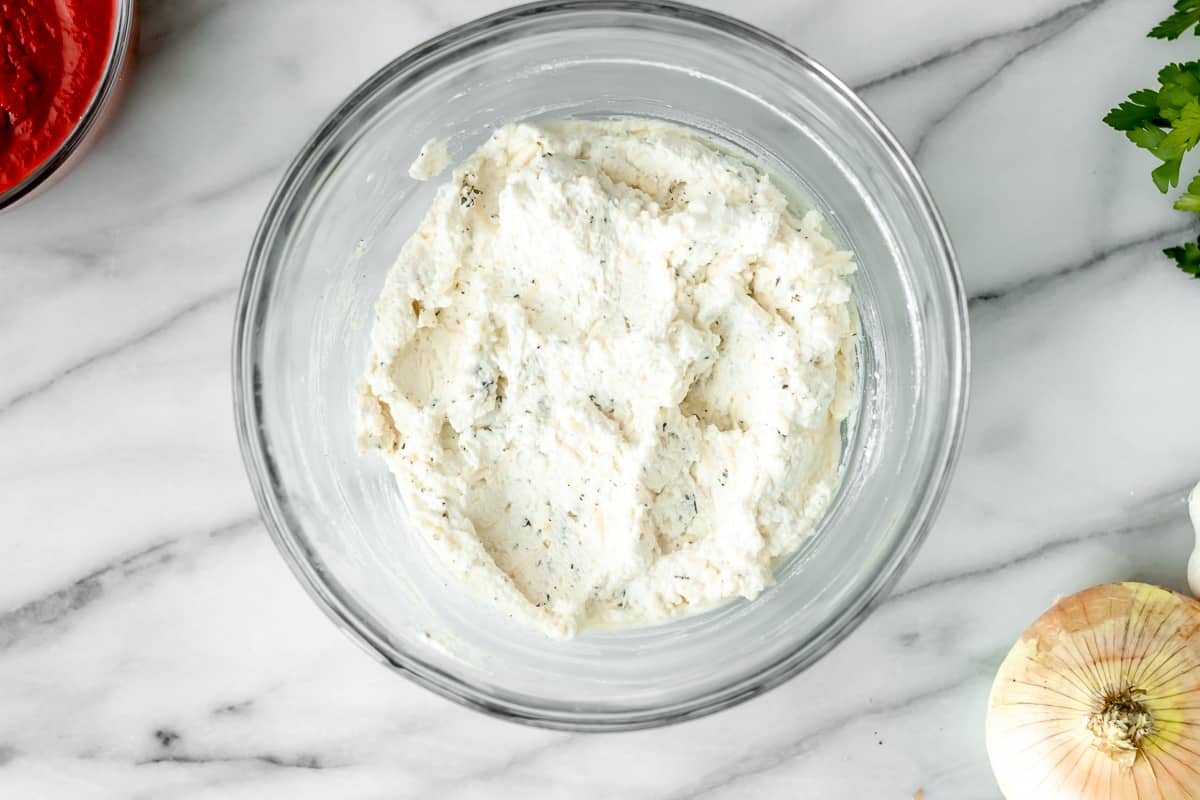 Combine the ricotta, 1 cup of the mozzarella, 1/4 cup of the Parmesan and 1 teaspoon of the Italian seasoning in a large bowl and mix well.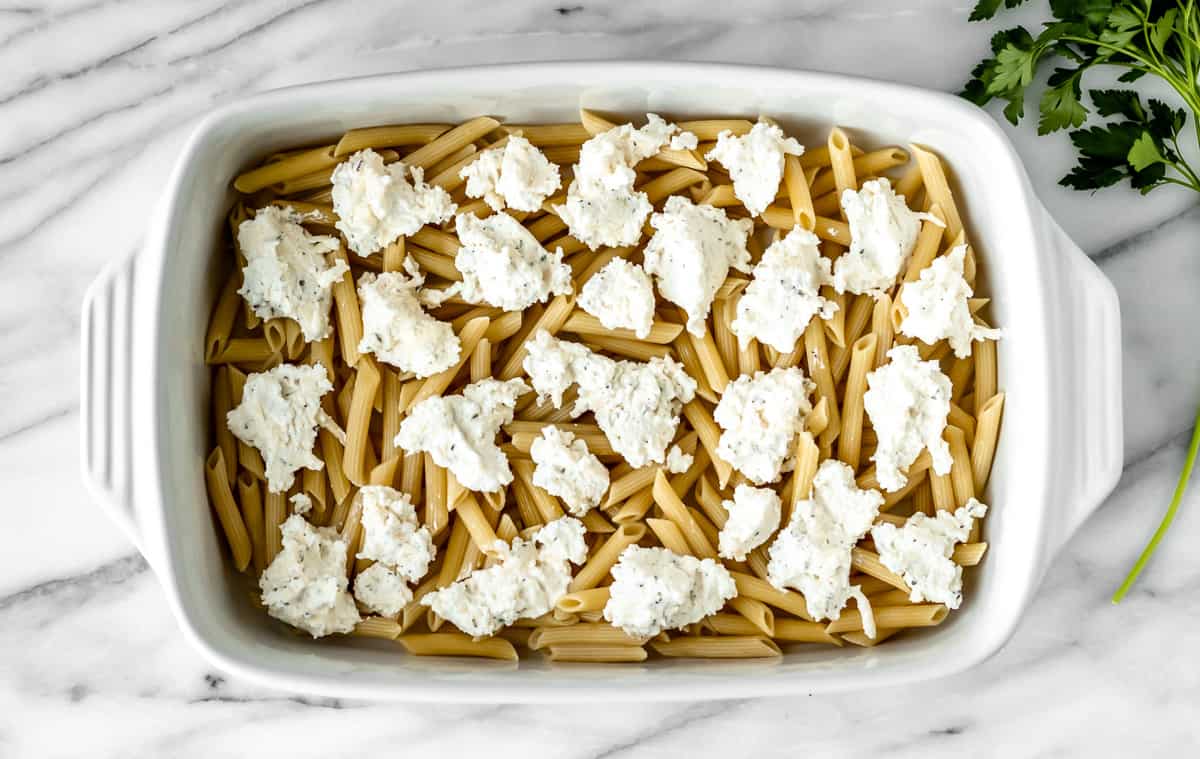 Spread half of the pasta into the bottom of a large, deep casserole dish. Top with dollops of half of the cheese mixture, then half of the meat sauce.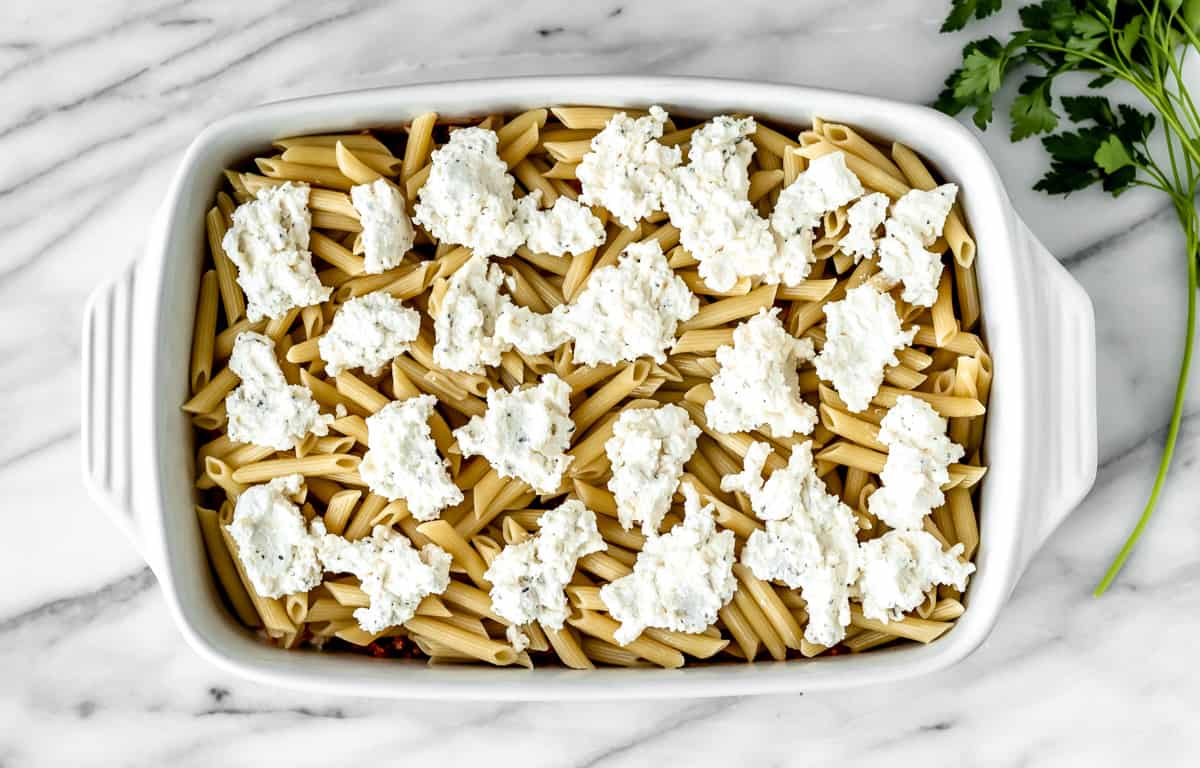 Repeat with the second half of pasta, cheese mixture and meat sauce.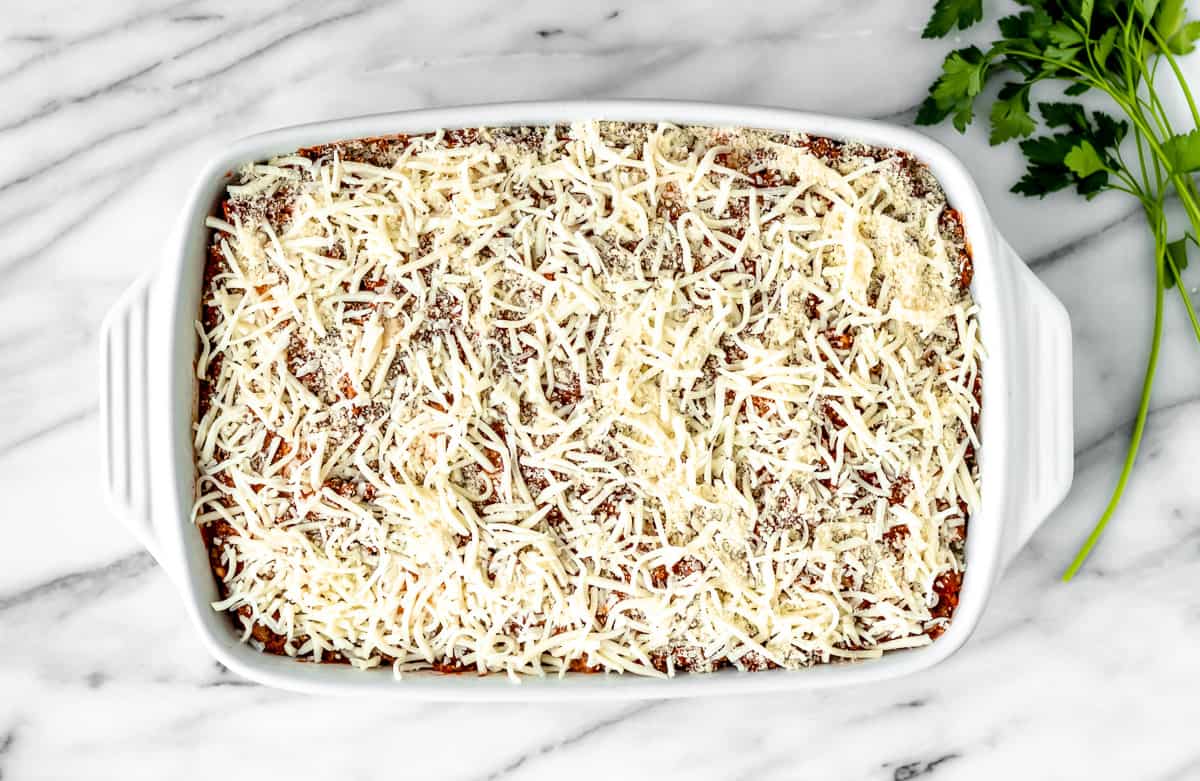 Top with the remaining mozzarella and Parmesan cheese.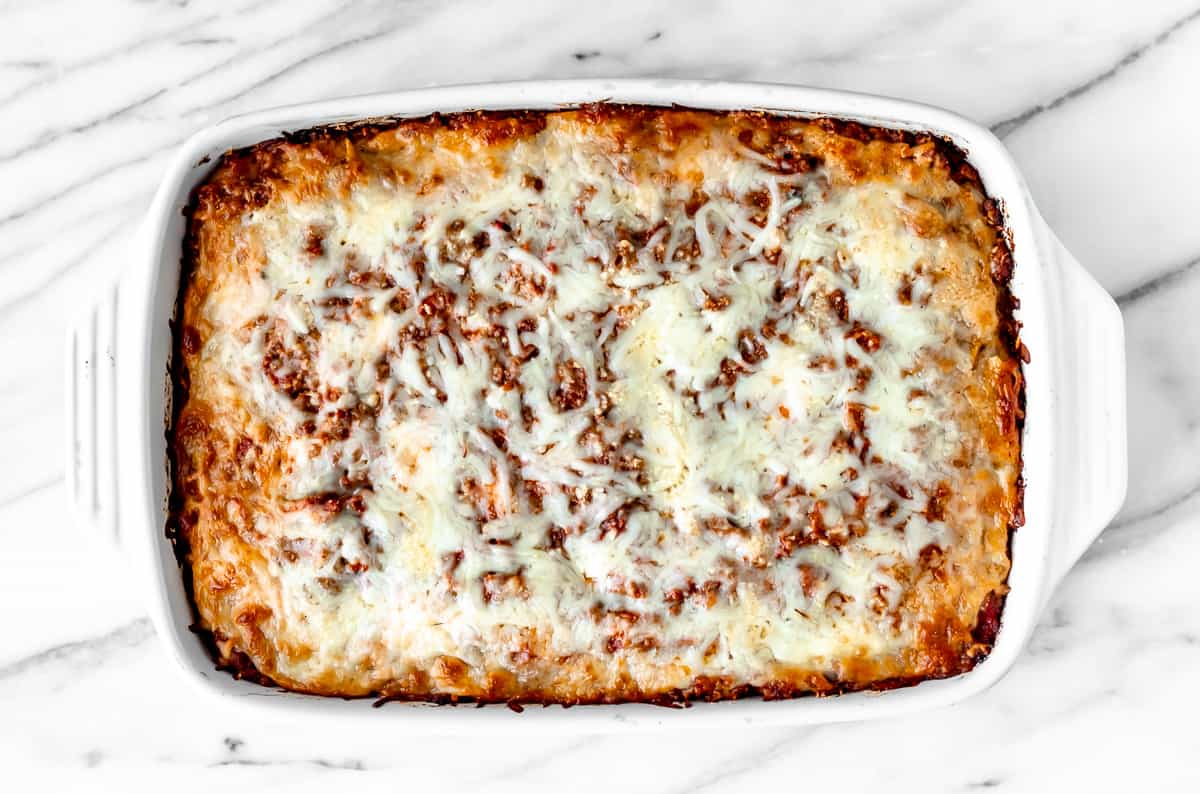 Bake, covered for 30 minutes. Uncover and bake and additional 15 minutes or until the cheese is melted and just starting to brown.
Present!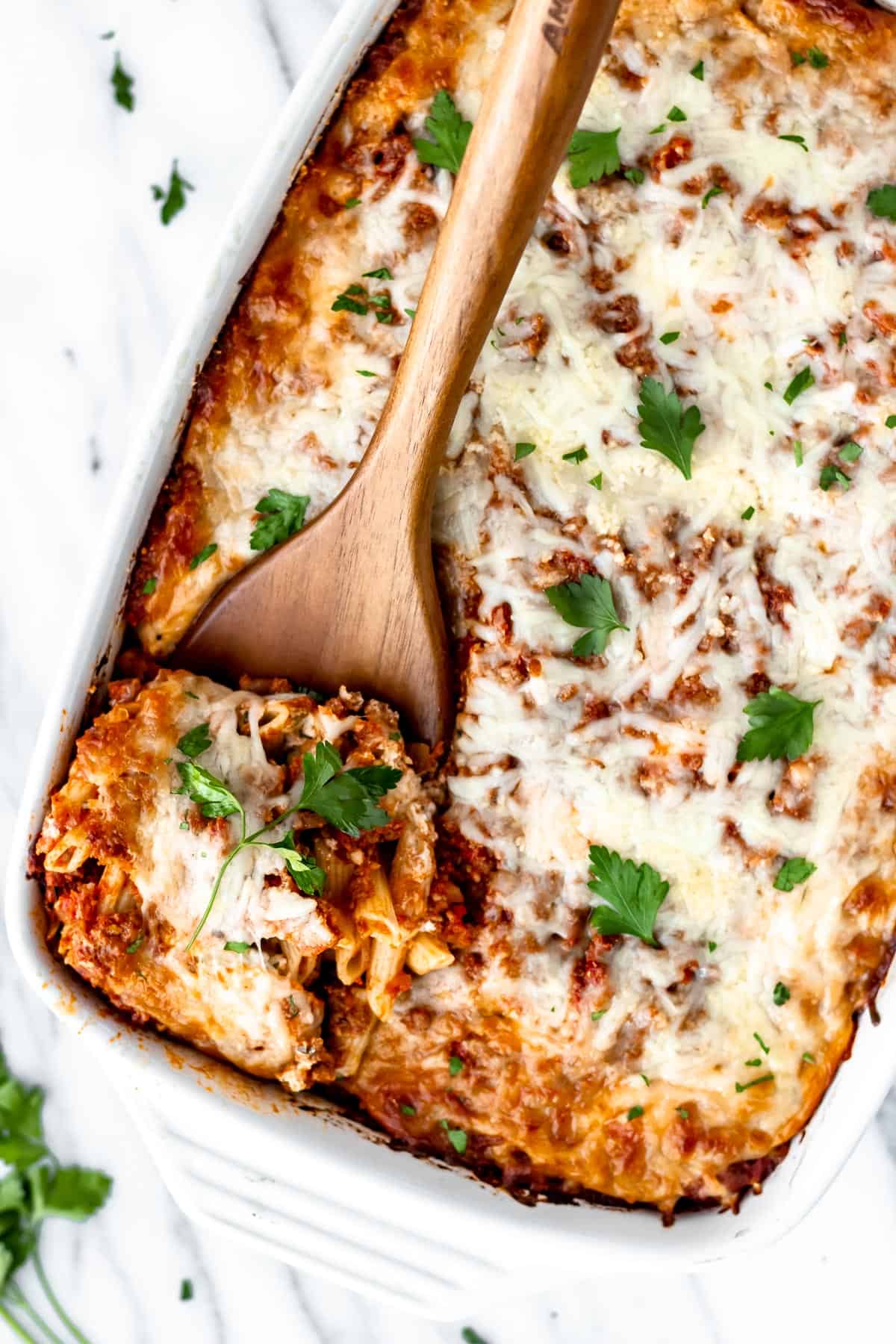 Garnish with fresh, minced parsley, if desired.
Tips and Techniques
You can substitute a different ground meat for beef. Ground turkey, chicken or bison would work great in this recipe.
If you'd rather not use vodka sauce, you can use any other tomato-based sauce that you prefer.
Store leftovers in an airtight container in the refrigerator. Consume within 3-4 days for best results.
FAQ's
Can You Free Baked Ziti?
Yes, you can freeze baked ziti. Prepare the baked ziti up to the point of baking it. Cover tightly with plastic wrap, then aluminum foil and place in the freezer. Consume within 2 months for the best results.
To reheat, remove the foil and plastic wrap, then replace the foil. Bake at 375°F covered for 45 minutes, then uncover and bake an additional 10-15 minutes or until the cheese is melted and starting to brown.
Do You Use Egg In The Cheese For Baked Ziti?
You don't have to add egg to the cheese in baked ziti, though many recipes do call for it. Egg can add more richness and flavor to the filling. This recipe does not call for egg, but it can be added, if preferred.
Are Baked Ziti and Lasagna The Same?
While baked ziti and lasagna use similar ingredients, they are not the same as the type of pasta used is different. Lasagna is a layered dish made of long, thin lasagna noodles, cheese and sauce that is baked, while baked ziti is a tubular pasta that is baked with cheese and sauce. Meat can be added to both dishes, if desired.
More Italian Recipes
Love this Baked Ziti with Vodka Sauce recipe? Follow us on Pinterest, Instagram, and Facebook for more!
If you try this recipe, I would really appreciate it if you would please leave a comment and star rating. Thanks!