Ben started taking his first steps a couple months ago and now there is just no stopping him! This is a baby on the move and we are just trying to keep up!
Ben's first steps actually came very early for his condition.  He has dwarfism and the "early" age for walking is typically around 14 months.  Our boy wasn't going to let his heavy, wobbly head slow him down.  Even before he could walk he was up on two feet and just sliding his head along on the floor in both the forward and reverse snowplow positions.  But even after he could get himself up on those two adorable feet of his, the unique ways he gets around kept coming!  We have found that Huggies Little Snugglers have been the best at keeping him dry and comfortable through hours of play!
I often still find him up on his two feet with his head pressed into the floor playing with a toy as if that's how every baby plays with their toys.  He also gets himself in this position and spins around just to check out what's going on around him.  I'm not sure how long this maneuver will go on, but it's one of my favorites!
We also find Benjamin in a squatting position a lot too!  I've read that it could be because his little legs get tired quicker than average height toddlers, but he never stops for long and doesn't really seem tired.  I think he's just still figuring out his body and how it works.  Lately, if his big brother, Jaxon, has the television on,  I will find Benjamin squatting with his back on the couch or ottoman  just watching along.
Even though he can walk now, he still loves to use his push toys.  He likes to go as fast as he can but doesn't know how to turn.  Every 15 seconds he's grunting to let us know to come turn the toy for him!  He also reaches up for our hands and once he has them, takes off as fast as he can! I have a feeling he's going to be just as crazy, if not crazier, than Jaxon!
While we are having a hard time keeping up with him, one thing that's not having any trouble are his diapers!  The Huggies Little Snugglers fit him so well, stay incredibly dry between changes, and don't leak even through all his new crazy moves!   And when playtime is done, they keep him dry and leak-free all night as well!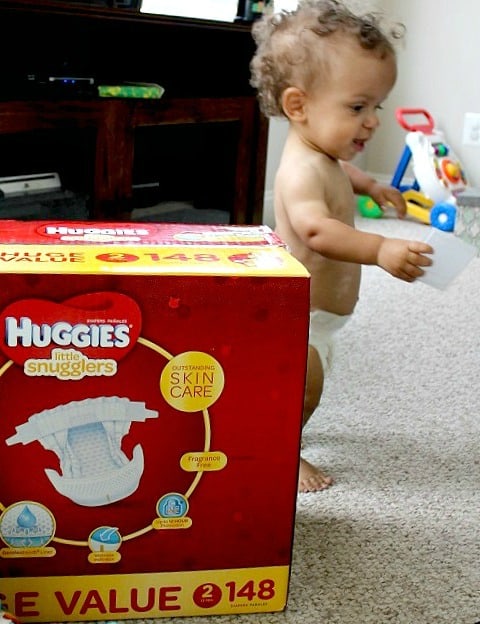 We also love the Huggies One and Done Refreshing Baby Wipes!  Diaper changes need to be quick and thorough because this little boy has places to go and things to do!  These wipes clean messes up so quickly! We even use them for spills and messy hands!
You can find Huggies Diapers and Wipes at Walmart Neighborhood Market for the same prices you'd find at the Walmart supercenters!  We love shopping at the smaller Walmart Neighborhood Market stores because it's so easy to get in and out which means more time for play time!  They are opening a lot of new stores so check the store locator to find the store nearest to you!