In this August 2019 Stitch Fix review, I received the cutest pair of shorts, a pretty floral romper, 2 really beautiful tops, and a fun pair of shoes.
This post contains affiliate links. I may receive a small commission at no additional cost to you if you make a purchase through one of my links. See our Disclosure Statement for more information.
I completely forgot to leave a note for my stylist for my August 2019 Stitch Fix box. I also didn't update my Pinterest board, so my stylist has nothing really to go on except my past history.
So, for my August box, my stylist said she focused on flirty and fun. I loved the photos of the items coming in this fix. I thought for sure it was going to a 5/5 for me, but you just never really know until you try everything on.
Before I get into the full review of the items I received, let me tell you a bit about Stitch Fix and how it works. If you are already familiar with Stitch Fix, skip on through until you get to the August 2019 Stitch Fix Review heading.
What is Stitch Fix
If you already know what Stitch Fix is all about, go ahead and skip over this part. If you're new to Stitch Fix, here is a brief summary of what you can expect.
Stitch Fix is a clothing subscription box. You can sign up to receive boxes on certain intervals, or just order a box whenever you want (this is the option I always choose so I don't have to remember to cancel etc.). There are now women's, men's, and children's Stitch Fix subscriptions available!
Each box you order will come with 5 items. These items are clothing, shoes, accessories, and jewelry. Stitch Fix now offers add-ons as well. These are items like camisoles, underwear, and bras that you can order in addition to your 5 items.
When you first sign up, you'll fill out a style survey. Be brutally honest with this section! You'll also have the opportunity to add any notes when you schedule your fix. I usually use this area to request certain items that I may have seen in other reviews or on Pinterest, or to request certain types of items. You definitely don't want to skip this part. I find that being really detailed in the notes section helps to ensure that you get items that you will love!
After everything is filled out, choose the date you'd like to receive your fix.
How Much Does Stitch Fix Cost?
You pay a $20 styling fee that is credited towards anything you purchase. Shipping is free both ways. Buy what you love, return what you don't. If you buy all 5 items, you'll also get a 25% discount! And yes, if you don't buy anything, the $20 fee is not refunded (as it goes towards the time to curate the items and their shipping costs). There has only been one or two times that I didn't buy a single item.
The cost of the items varies. You can set your price ranges in your survey. Stitch Fix even carries designer brands now!
Now that that is out of the way, check out everything I got this month below!
August 2019 Stitch Fix Review
Mia Patrycia Slide Sandal ($39.00)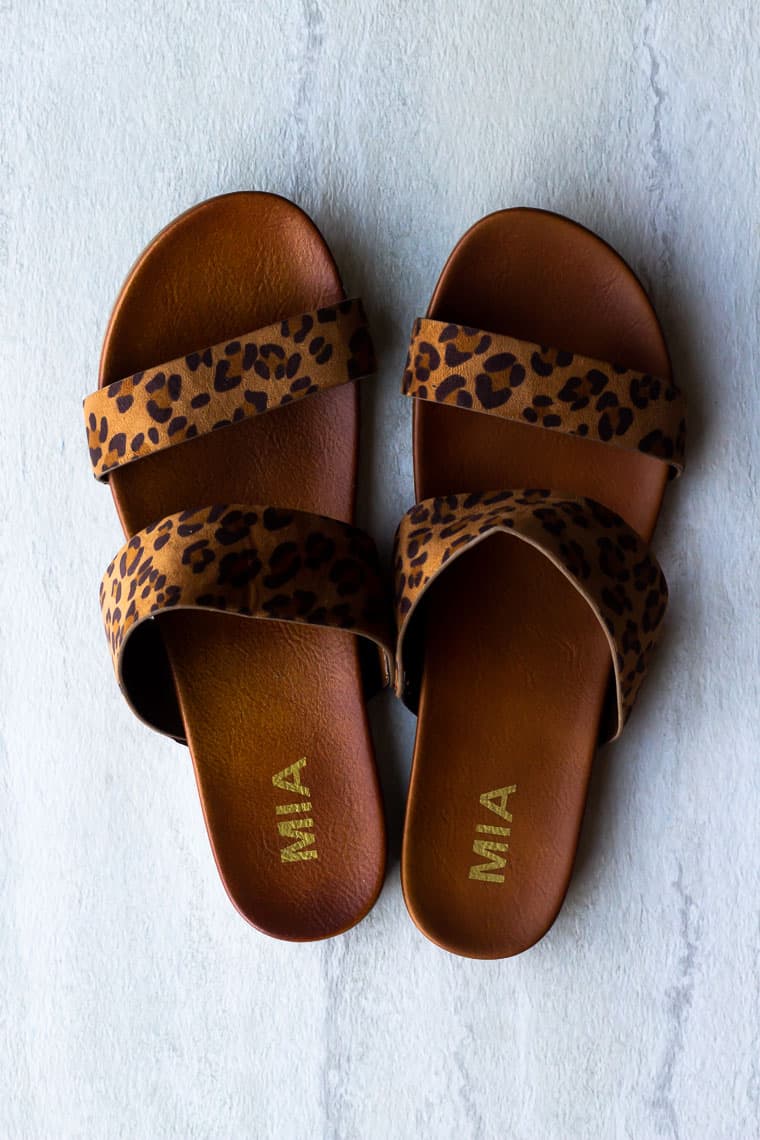 I really didn't think I'd care for these before they arrived. I've never really owned much in animal prints and usually have a hard time wearing slides.
As always, once I tried them on, I loved them. The only problem is that they are a tad bit too small and there is no exchange available.
Verdict: would keep, but no exchange available.
CECE SPORTSWEAR Raelyn Off the Shoulder Top ($68.00)
I have two other tops from this brand that I absolutely love. And I do love the color, print, and style of this one too.
I just find it's a bit heavier material and looks boxy on me. It also doesn't stay off the shoulders. Anytime I move an arm up, it won't stay off the shoulder.
Verdict: returned
Level 99 Laird Linen Shorts ($64.00)
I love everything about these shorts. The color, the texture, the fit. They are perfect!
They looked really good with the CECE top so hopefully I can find something similar to wear with these.
Verdict: kept
Vince Camuto Monila Crochet Detail Texture Top ($98.00)
Yep, you read that right – $98 for a tank top.
Of course I immediately thought that there is no way I'm going to pay that much for a tank top.
And, of course, it's beautiful and fits perfectly. I've seen several other people in a Stitch Fix Facebook group say the same thing. We're all keeping it – haha!
Verdict: kept
Kaileigh Marisole Knit Romper ($48.00)
The print on this romper is so pretty and the colors are some of my favorites.
I just didn't think this was a very good quality item. The cross in the front had an open hem that I'm not sure was supposed to be that way and the fabric felt thin and cheap. It also didn't stay closed, at all. I'm not sure if I got a bad item, or if this is just the way it is.
I looked online for other pictures and the romper seems to be closed higher up on all of the other pictures I could find. With the one I received, it would be inappropriate to post those pictures online!
Verdict: returned
Final Thoughts on My August 2019 Stitch Fix Items
Overall, I really felt this fix was totally my style. Unfortunately, not everything works out every time, but I did get a couple really beautiful items that I'm really happy with.
The total for all of the items in this fix is $317.00. The 25% discount for buying all 5 items is $79.25 which brought the total to $237.75. Because I only bought the shorts and tank top, I paid a total of $162.00.
I have yet to schedule my September fix because we are moving and I don't know where I'll be and when. It's not looking like I'm getting the wide leg pants I've been begging for because come September, I'll be asking for fall items and layering pieces.
How to Try Stitch Fix
If this August 2019 Stitch Fix Review has you ready to try Stitch Fix for yourself, click HERE to get started!
Make sure to be super specific about items you've seen and love. I would also definitely recommend linking an up-to-date Pinterest board that has Stitch Fix items you would love to get!
Other Stitch Fix Reviews