This April 2019 Stitch Fix review features spring appropriate business casual pieces. Of all the fixes I have received, this one might just be my favorite yet!
This post contains affiliate links. I may receive a small commission at no additional cost to you if you make a purchase through one of my links. See our Disclosure Statement for more information.
I changed things up a little with my April 2019 fix. I asked for more business casual pieces. Not much of my current clothing fits into this category, but I am hoping to attend more conferences and meetings soon. I thought it was time to add a few of these staples to my wardrobe.
As always, my stylist Chelsea, did a really great job choosing items that I would love!  This is my favorite fix that I have received lately!
Before I get into the full review of the items I received, let me tell you a bit about Stitch Fix and how it works. If you are already familiar with Stitch Fix, skip on through until you get to the April 2019 Stitch Fix Review heading.
What is Stitch Fix
If you already know what Stitch Fix is all about, go ahead and skip over this part. If you're new to Stitch Fix, here is a brief summary of what you can expect.
Stitch Fix is a clothing subscription box. You can sign up to receive boxes on certain intervals, or just order a box whenever you want (this is the option I always choose so I don't have to remember to cancel etc.). There are now women's, men's, and children's Stitch Fix subscriptions available!
Each box you order will come with 5 items. These items are clothing, shoes, accessories, and jewelry. Stitch Fix now offers add-ons as well. These are items like camisoles, underwear, and bras that you can order in addition to your 5 items.
When you first sign up, you'll fill out a style survey. Be brutally honest with this section! You'll also have the opportunity to add any notes when you schedule your fix. I usually use this area to request certain items that I may have seen in other reviews or on Pinterest, or to request certain types of items. You definitely don't want to skip this part. I find that being really detailed in the notes section helps to ensure that you get items that you will love!
After everything is filled out, choose the date you'd like to receive your fix.
How Much Does Stitch Fix Cost?
You pay a $20 styling fee that is credited towards anything you purchase. Shipping is free both ways. Buy what you love, return what you don't. If you buy all 5 items, you'll also get a 25% discount! And yes, if you don't buy anything, the $20 fee is not refunded (as it goes towards the time to curate the items and their shipping costs). There has only ever been one time that I didn't buy a single item.
The cost of the items varies. You can set your price ranges in your survey. Stitch Fix even carries designer brands now!
Now that that is out of the way, check out everything I got this month below!
April 2019 Stitch Fix Review
Urban Expressions Kelvin Tote ($64.00)
When I sneaked a peek at my fix, after receiving the shipping notification, I didn't plan on keeping this bag. To start, I have way too many as it is that I rarely use. I also thought from the online photo that it would be white with gold accents and white + kids does not mix.
When my box arrived and I saw that it was actually light blue, I was really torn. It's such a pretty bag and just the right size. There are tons of pockets and compartments for everything and it's really stylish and more business-like which is what I was all about this fix.
With all that said, I'm still planning to sell it in a Stitch Fix Facebook group. But only because I don't "need" it and am actually trying not to accumulate too much stuff that won't get used often.
Verdict: kept, but planning to resell.
Pink Clover Mahalo Tie Neck Top ($38.00)
This shirt is gorgeous! It's slightly sheer but with a cardigan, blazer, or the right bra, it's not that noticeable.
I love that this top can be dressed up or down. I can pair it with pants and a blazer for work, with jeans and a cardigan on the weekends when it's cooler, or with shorts and sandals. It's a definite keeper!
Verdict: kept.
Margaret M Sylvie Printed Straight Leg Pant ($98.00)
As soon as I saw these pants in person, I loved them! They are dark blue with a dark, textured design on them. They come to just above the ankles and look really cute with strappy heels or sandals.
My stylist suggested pairing them with the Pink Clover top and the grey blazer I also received in this fix. Not sure the colors really all go together, but somehow it still looks cute!
Verdict: kept
Collective Concepts Signa Maxi Dress ($78.00)
I wasn't sure I would like this dress when I first saw the items that I was receiving. I haven't had the best luck with maxi dresses that Stitch Fix has sent fitting well. I often need to size up so they fit across the chest, but then the rest of the dress would be too big.
I was pleasantly surprised that this dress fit perfectly – no sizing up needed at all and it's actually comfortable!  It is a little long, but it's not dragging on the floor or anything.
My stylist recommended pairing with a denim jacket, but I tried this on with the blazer and it looked really good too!
Verdict: kept
French Mauve Melanie Knit Tunic Blazer ($88.00)
I was so nervous about this blazer. I haven't been able to ever find a blazer that fit me well and was comfortable.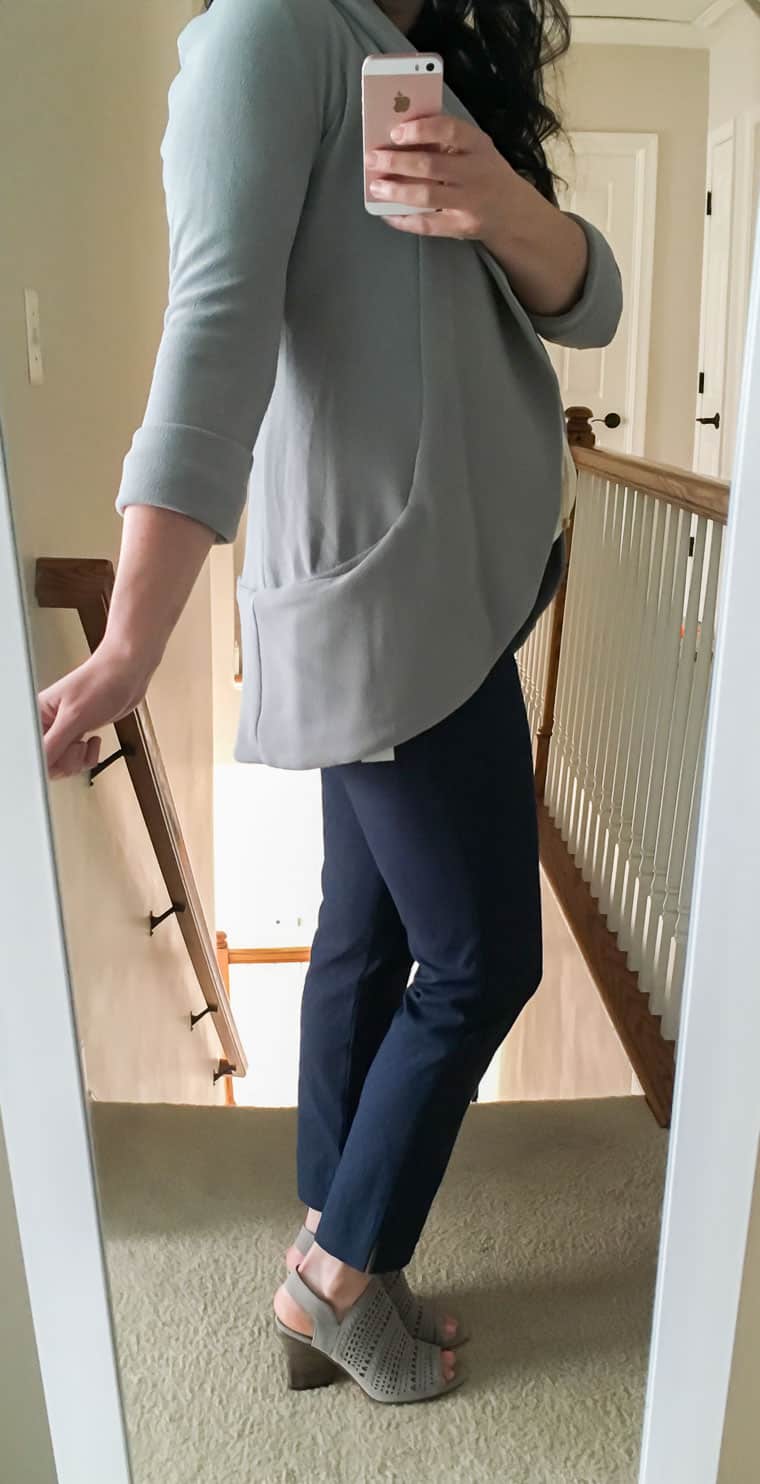 This blazer is super soft, tunic length, and more open and flowy than any that I have ever tried on before. I absolutely love it. And the lighter grey color is perfect for the spring.
It looked great with the pants and top, as well as the dress. Throw the bag in there and I pretty much got 2 outfits in this fix!
Verdict: kept.
Final Thoughts on My April 2019 Stitch Fix Items
Overall, I am thrilled with the items that I received in this fix. Even though I'm not planning to keep the bag, I really do love it and am kind of hoping that no one wants to buy it from me – ha!
The total for all of the items in this fix is $366.00 . The 25% discount for buying all 5 items is $91.50 which brought the total to $274.50.
I have yet to schedule my next fix, but plan to ask for more of the same!
How to Try Stitch Fix for Free!
If this April 2019 Stitch Fix Review has you ready to try Stitch Fix for yourself, click HERE to get started!
Make sure to be super specific about items you've seen and love. I would also definitely recommend linking an up-to-date Pinterest board that has Stitch Fix items you would love to get!
Other Stitch Fix Reviews