Apple Cinnamon Waffles are fluffy, savory, and sweet with a golden brown, crisp exterior. These easy-to-make waffles are the perfect fall breakfast, especially when made with fresh-picked apples. The whole family will absolutely love them!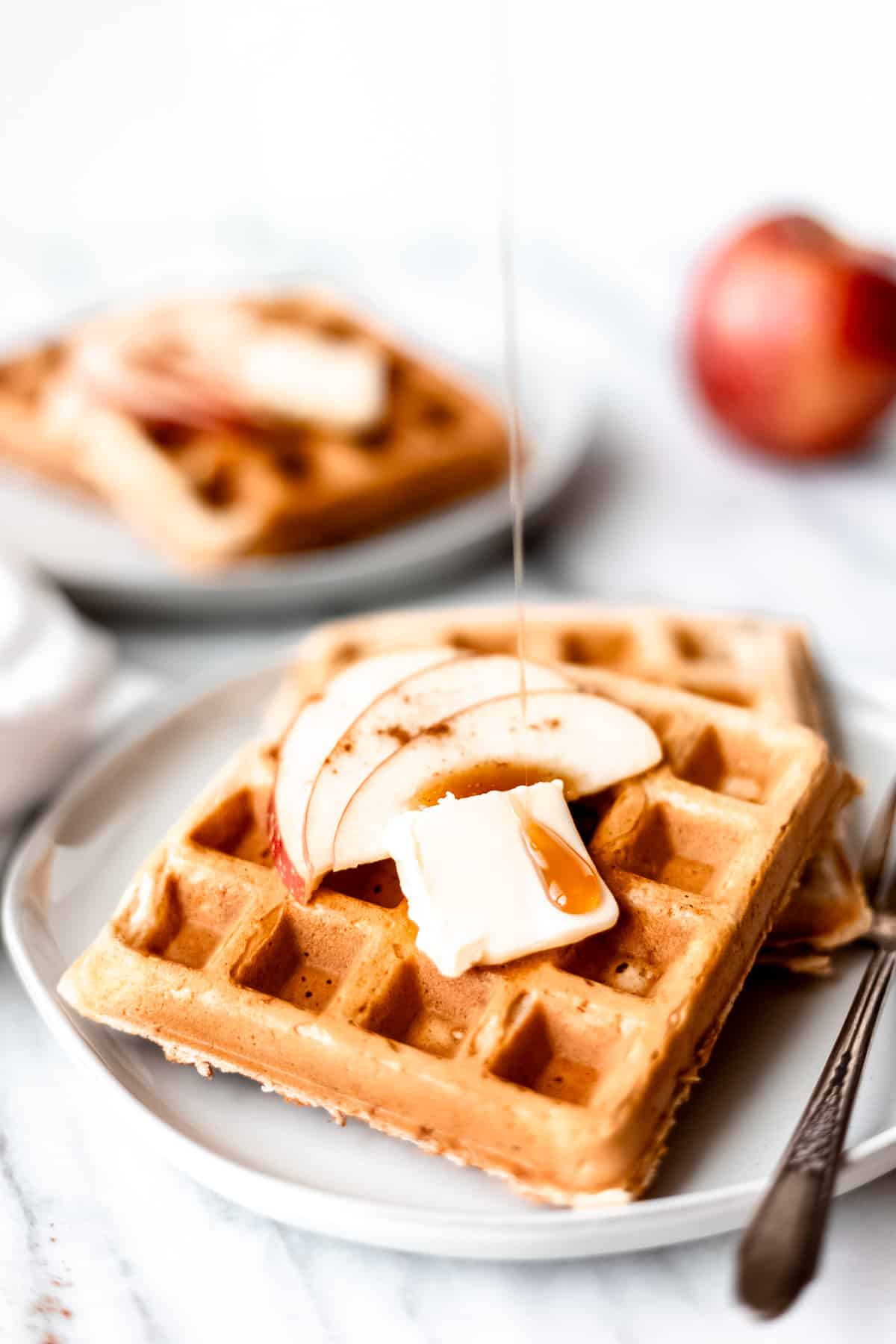 This post contains affiliate links. See our Disclosure Statement for more information.
This fall has really been all about breakfast! While I have already shared a recipe for Apple Cinnamon Pancakes, I wanted to share another option with all of the same delicious flavors for the waffle lovers out there.
These fluffy Apple Cinnamon Waffles are loaded with fresh apple and cinnamon with perfect little pockets to fill up with added butter, maple syrup, or even Apple Butter.
Why This Recipe Works
This surprisingly easy waffle recipe uses mostly pantry staples and fresh apples. It is fairly quick to prepare, as well.
The familiar, aromatic warm, spicy flavors of fall are comforting and delicious. To enjoy these waffles all season long, make a big batch and freeze some.
Apple Cinnamon Waffles are the perfect dish to serve guests for breakfast or brunch. They would even make for a fun breakfast-for-dinner meal too!
Step-By-Step Instructions
Ingredients
2 cups all purpose flour: we highly recommend using high-quality baking products like King Arthur brand for the best results.
2 tablespoons brown sugar (packed)
1 tablespoon baking powder
1 teaspoon ground cinnamon
1/2 teaspoon salt
1 1/2 cups whole milk
2 eggs
3 tablespoons butter (melted and cooled some)
1 teaspoon vanilla extract
1 apple (peeled and grated)
The entire recipe and instructions can also be found in the recipe card at the bottom of this post. You can also print the recipe from the card, if needed.
Prep!
Melt the butter and allow it to cool slightly. Peel and grate the apple using the large holes on a box grater. Squeeze out the excess juices.
Create!
Combine the flour, brown sugar, baking powder, cinnamon, and salt in a medium bowl. Set aside.
Whisk together the milk, eggs, melted butter, and vanilla extract until well blended.
Pour the milk mixture into the dry ingredients. Whisk until just combined.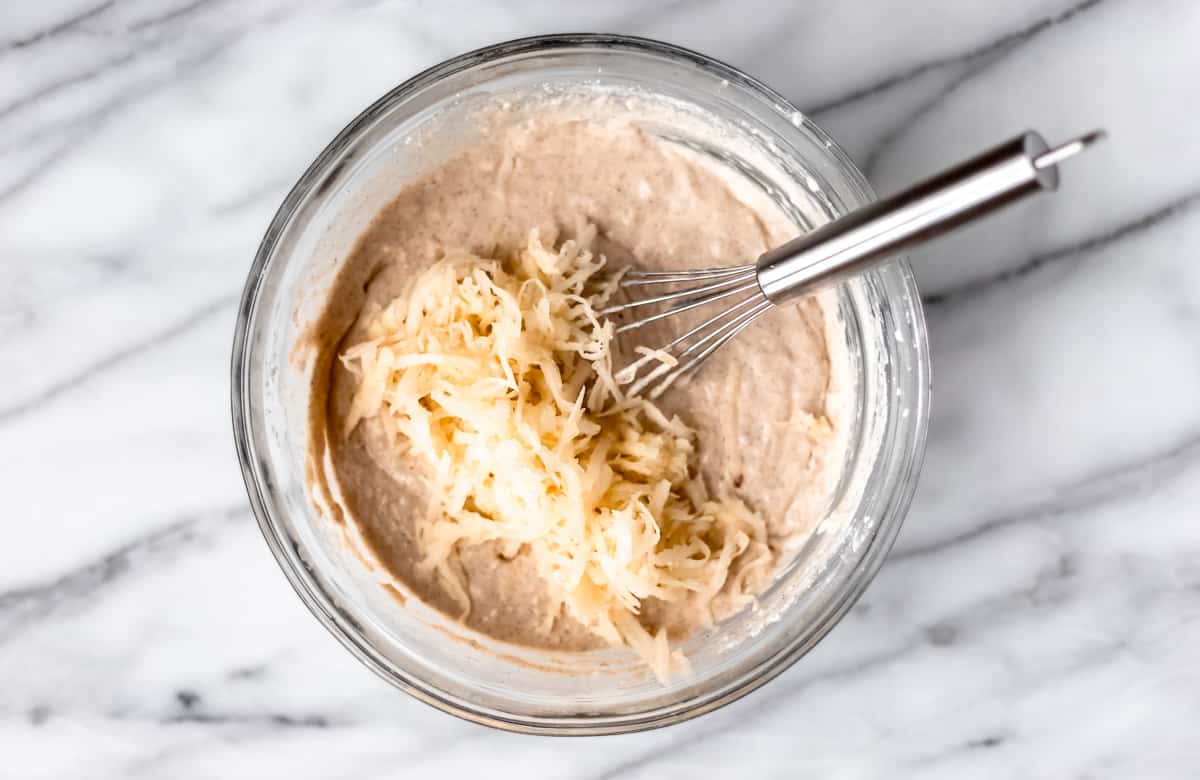 Stir in the grated apple until evenly blended. The mixture will be thick.
While the batter rests, preheat your waffle maker. I usually set mine to medium.
Scoop the waffle batter into the preheated waffle maker, filling most of the grates except for a little around the edges. The batter will spread out when the lid is closed.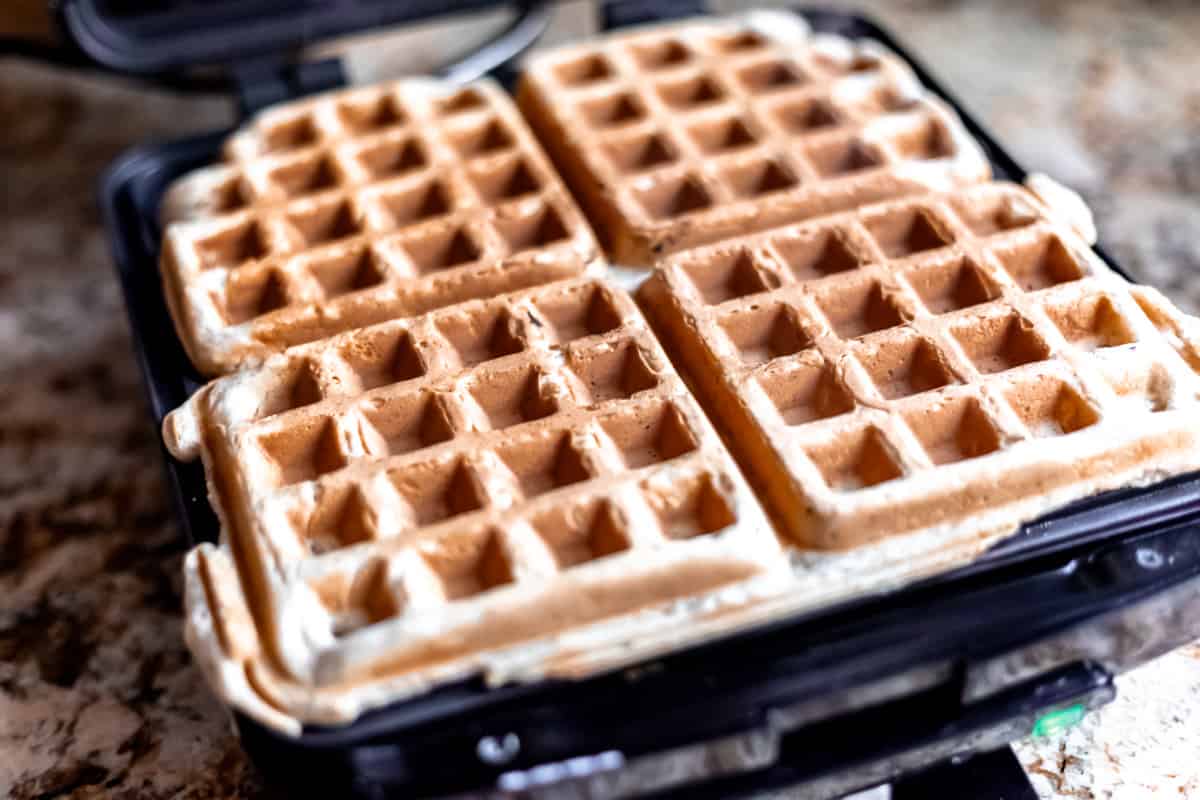 Close the lid and cook until lightly browned and crisp on the outside, about 3 to 5 minutes.
Repeat with any remaining batter, as needed.
Present!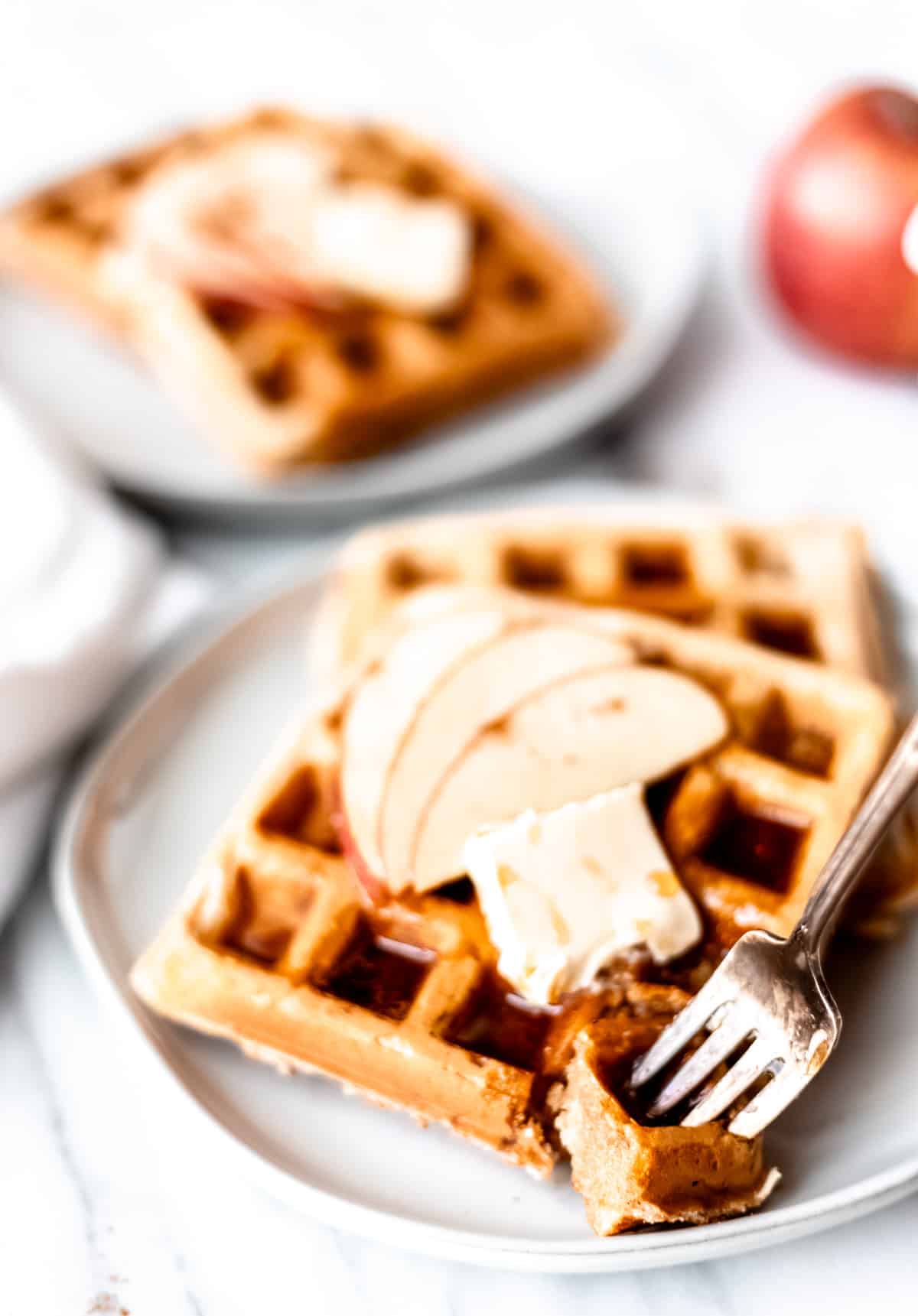 Top with butter, maple syrup, and apple slices, if desired.
Tips and Techniques
You can use any apples you like. Using a tarter apple, like Granny Smith, will give you a balance of sweet and tart, while using sweeter varieties, like Fuji, Gala, or Honey Crisp, will result in overall sweeter waffles.
Store leftover waffles tightly wrapped in plastic wrap in the refrigerator. Consume within 2 to 3 days.
Homemade waffles can also be frozen for up to 3 months. Simply reheat them in your toaster or in an oven preheated to 350°F for about 10 minutes.
FAQ's
Can You Freeze Waffles?
Yes. Freeze waffles with a sheet of wax paper between each one. Use within 1 to 2 months for the best results.
How Do You Reheat Waffles?
Waffles can be reheated on a sheet pan in the oven at 350°F for 5 to 10 minutes. They can also be reheated in a toaster. Be sure to keep a close eye on them to prevent burning.
What Makes A Waffle Chewy?
Waffles are less fluffy and more dense or chewy when you over-mix the batter. Don't mix the batter too vigorously. Mix it just well enough to incorporate the ingredients together completely. Then, let it sit for a few minutes to allow the chemical reactions to happen within the batter (which gives it that fluffy texture!).
More Waffles Recipes
Love this recipe for Apple Cinnamon Waffles? Follow me on Pinterest, Instagram, and Facebook for more!
If you try this recipe, I would really appreciate it if you would please leave a comment and star rating. Thanks!