Air fryer carrots are the perfect, healthy side dish to add to any meal. Tossed in olive oil, garlic, and fresh thyme, they are full of hearty flavors the whole family will love.
This post contains affiliate links. See our Disclosure Statement for more information.
Carrots are one of the easiest vegetables to get both of my kids to eat without any complaining. Needless to say, any kid-friendly vegetable dishes make regular appearances at our dinner table all year long.
Making carrots in the air fryer is a very easy way to prepare them. They taste just as good as oven-roasted carrots, but don't require nearly as much time or oil. This makes them lower in fat and calories, as well.
A little sprinkle of Parmesan cheese gives a hint of salty cheese flavor which complements the flavor from the herbs and seasonings perfectly.
Looking for even more ways to enjoy carrots? Try these popular recipes for California Blend Vegetables with Parmesan Bread Crumbs and Roasted Spiced Carrots.
Why This Recipe Works
The prep for this recipe is simple and only requires a handful of ingredients. Making carrots in the air fryer is also quicker than roasting them in the oven.
These carrots have the same sweet and savory, oven roasted flavor and texture. They are a great option to serve with a countless number of main dishes and the perfect side dish for holidays like Thanksgiving, Christmas and Easter, as well.
This is a healthier alternative that is lower in fat and calories because the air fryer requires less oil, or even no oil.
Step-By-Step Instructions
Ingredients
6 large carrots (peeled and cut into 1/2-inch thick slices): you can also use baby carrots but may need to increase the cook time.
1 tablespoon extra virgin olive oil: you can use another oil, if preferred. You can also omit the oil, but the carrots will be drier.
1 teaspoon fresh thyme (minced)
½ teaspoon garlic powder
Salt and pepper to taste
Parmesan cheese (optional garnish)
The entire recipe and instructions can also be found in the recipe card at the bottom of this post. You can also print the recipe from the card, if needed.
Prep!
Preheat your air fryer to 400°F for 4-5 minutes.
Peel and cut carrots into 1/2-inch thick pieces. You can cut the carrots into coins, matchsticks or on a bias.
Chef's Tip: cut the carrots as equal in size as possible to ensure even cooking.
Create!
In a large mixing bowl, toss the carrots with olive oil, thyme, garlic powder, salt, and pepper until evenly coated.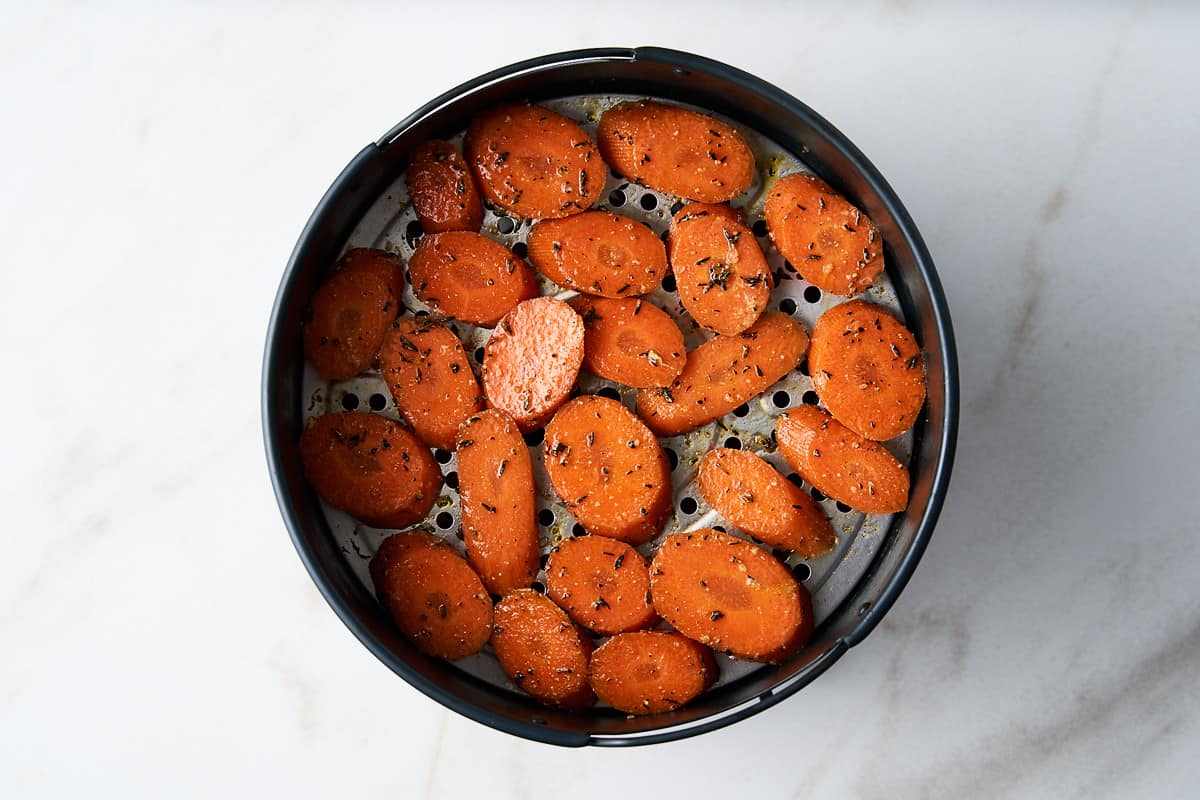 Transfer the carrots to your air fryer basket in a single layer, being careful not to overlap the carrots.
Air fry for 12-15 minutes, or until fork-tender and crispy on the edges.
Present!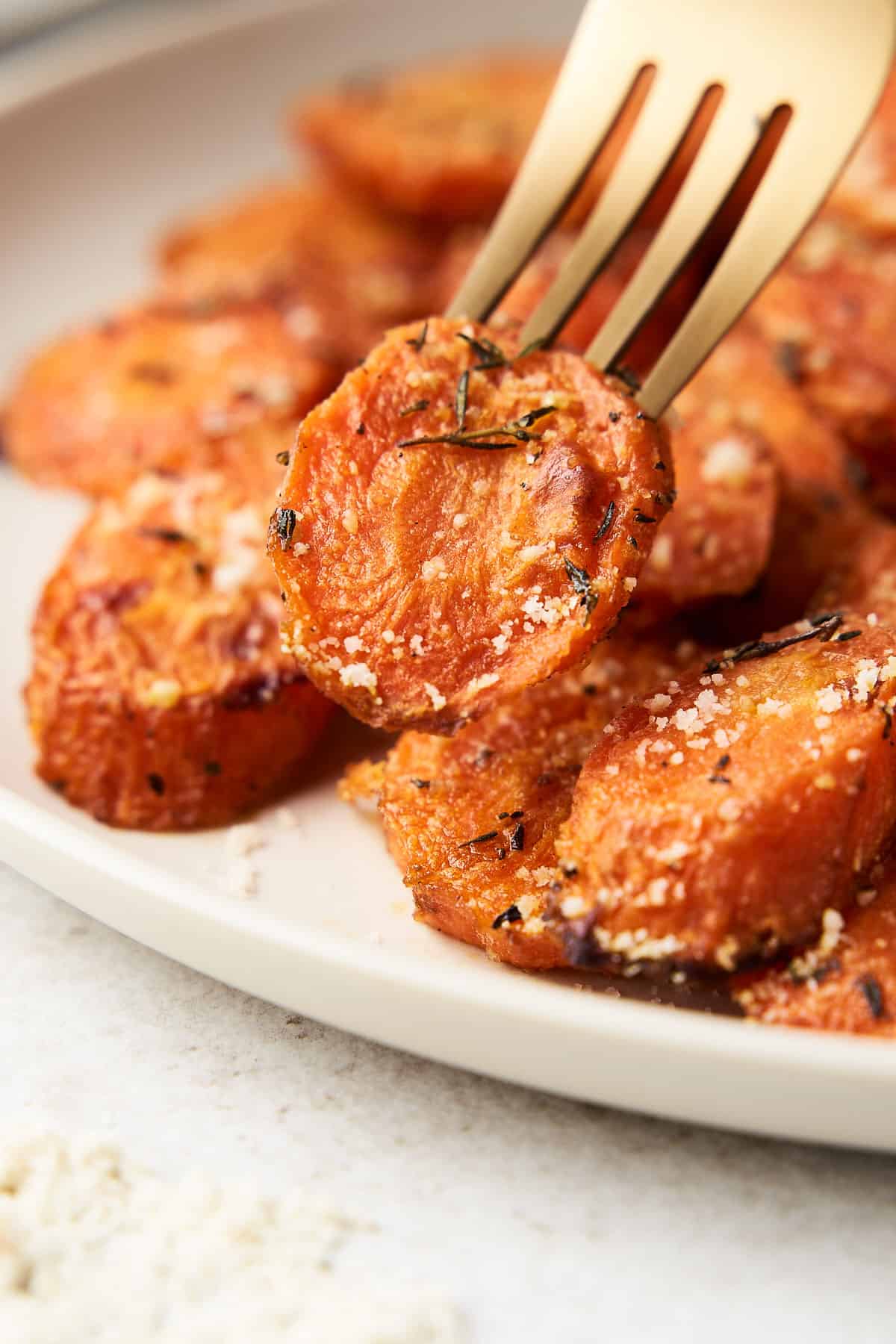 Garnish with Parmesan cheese and/or extra fresh thyme, if desired.
Serve immediately while hot.
Tips and Techniques
Make sure that you cut the carrots into equal size pieces. This helps to ensure overall even cooking.
If using baby carrots, you may need to increase the cook time a few minutes. Carrots are done cooking when they are fork tender.
You can use a different oil or omit the oil. If you omit the oil, the air fried carrots may be a bit drier.
Store leftovers in an airtight container in the refrigerator. Consume within 4-5 days.
FAQ's
What Do You Serve With Air Fryer Carrots?
link to creamy garlic chicken, garlic butter short ribs, turkey cutlets, chipotle pork chops and anything else you think works here
Can You Air Fry Frozen Carrots?
Yes, frozen carrots can be prepared in the air fryer. You may need to add just an extra minute or two to the cook time.
Can You Freeze Cooked Carrots?
While you can freeze cooked carrots for up to 6 months in an airtight container or freezer bag, it is not recommended. The texture of the carrots will change once reheated and may have an unpleasant mouthfeel.
More Carrot Side Dish Recipes
Love this Air Fryer Carrots recipe? Follow me on Pinterest, Instagram, and Facebook for more!
If you try this recipe, I would really appreciate it if you would please leave a comment and star rating. Thanks!